Kids Birthday Party Idea – Decorate Cookies
August 6th, 2008
Kids Love to decorate cookies and cupcakes – I've used this as an event at two of my daughter's birthday parties. When she turned two I had the kids decorate their own cupcakes to eat. This year she turned 7 and the girls at her party decorated cookies as one of the activities.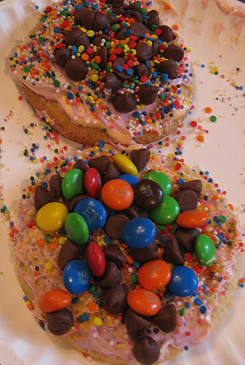 I made round sugar cookies in advance – two per girl. (If you want to cut down on your work you can buy the pre-made sugar cookie dough in the dairy section of the supermarket.) Then we prepared white icing. We made three pretty pastel colors for them to use – pink, lavender and yellow. (If it's for a boy's party I would make more boyish colors.)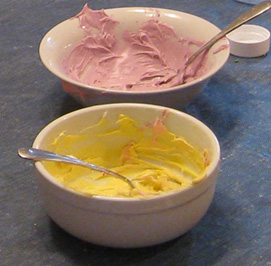 Then I had fun toppings available for the kids to use: sprinkles, crystal sugar, M & M's and chocolate chips.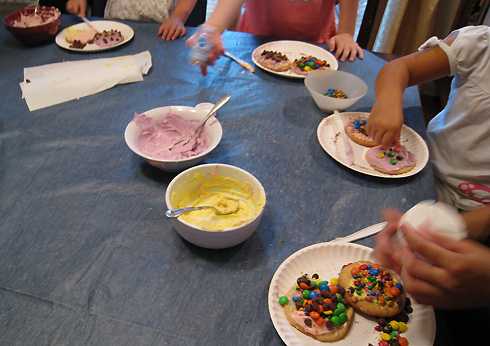 The activity took about 15 – 20 minutes. We wrapped up the cookies on plates for the kids to take home.
The kids had a ball!
(This doesn't have to be just for parties or holidays – you can do this on a rainy day just for fun.)
This article was posted on Wednesday, August 6th, 2008 at 9:12 pm and is filed under Australia, Birthdays, Canada, Cookies, Cooking with Kids, Countries & Cultures, Decorating Cookies, Decorating Cookies, Decorating Cupcakes, Desserts, Holidays Around the World, Kids Parties, Mama Lisa, Parenting, Parties, Recipes of the World, United Kingdom, USA. You can follow any responses to this entry through the RSS 2.0 feed. You can skip to the end and leave a response. Pinging is currently not allowed.
2 Responses to "Kids Birthday Party Idea – Decorate Cookies"
yenni Says:
August 8th, 2008 at 4:57 am

it's more important to involve the kids and let them feel important of preparing their cake, right?

Lisa Says:
August 8th, 2008 at 10:34 am

This activity is good if you're having a party with other kids – it's gives them all something fun to do (separate from making the cake with your own children)!

-Mama Lisa
Leave a Reply