Japanese Wedding Attire
October 1st, 2010
The photo below shows a traditional Japanese kimono that a groom and a bride wear in a Japanese style wedding.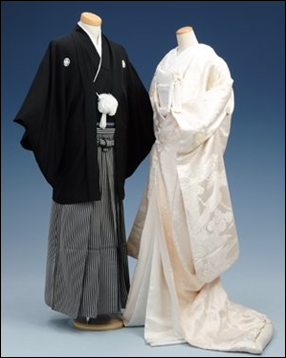 Ayako Egawa wrote from Japan:
We have two types of weddings, Japanese style and western style.  Brides in Japanese style wear a special white traditional kimono and brides in western style wear a wedding dress.  Both are really beautiful.  The bouquet toss is popular in Japan, too. [When the bride tosses the bouquet to all the unmarried women at the wedding and whoever catches it will be the next to marry.]

In a Japanese style wedding, the bride wears a pure white kimono at the wedding ceremony (during the oath of marriage) and then changes into a colored kimono at the wedding party.  But most couples choose western style weddings rather than Japanese ones now.
Thanks for sharing Ayako! 
Everyone is welcome to share information about the wedding traditions in their countries in the comments below.
Mama Lisa
Leave a Reply