American Wedding Traditions
October 1st, 2010
We have some traditions that many brides follow here in the US.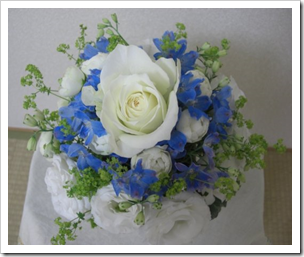 The most popular saying is…
Something old, something new,
Something borrowed, something blue.
Meaning that at the wedding the bride should be wearing something old, something new, something borrowed and something blue for good luck in her marriage.
It's supposed to be bad luck for the groom to see the bride before the wedding ceremony.
During the ceremony, it's the Best Man's job to hand the groom the wedding ring that the groom will pace on the bride's finger during the wedding vows.  He is chosen by the groom and is usually a brother or best friend.  The  Maid of Honor is similarly chosen by the bride to hold the wedding ring until it's time for the bride to place it on the groom's finger during the ceremony.
After the ceremony, when the bride and groom are on their way out of the church or place where the vows are exchanged, the guests would traditionally throw rice at the bride and groom.  If it's outside, nowadays the guests might throw something else (like bird seeds) because many believe the myth that raw rice will hurt the birds.
We also have the bouquet toss. Sometime after the ceremony, all of the unmarried women gather together.  The bride then tosses her bouquet over and behind her back to them.  Whoever catches the bouquet is supposed to be the next to marry.
The bride often wears a garter on her leg (many times that's what will have the blue in it for good luck as in the saying above). The groom will take the garter off the bride's leg and throw it to all of the bachelors at the ceremony.  Whoever catches it is the next to marry.
Also, during the reception, if someone clinks on their glass with a spoon, the bride and groom have to kiss.
Feel free to add any wedding traditions you know of from anywhere around the world in the comments below.
Mama Lisa
Photo Credit and Bouquet Design: Ayako Egawa
Leave a Reply