Gift-giving in Japan: Fancy Envelopes Tied with Symbolic Mizuhiki Knots
October 1st, 2010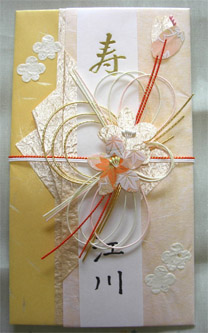 Recently, Ayako Egawa wrote to me from Japan about how Japanese people give money as gifts for special occasions. Gift money is put in a fancy envelope. A colorful cord is tied around it and finished off with a special knot (much like bows and ribbons put on gifts in the US). In Japan, there are different knots used for different occasions each with a different symbolism. Some of the knots are made into the shape of animals.
Here's what Ayako wrote about it:
Yutaka and I are going to attend my friend's wedding party next weekend.

We Japanese put money in a special envelope and give it to our friends or a relatives for ceremonial occasions such as a wedding ceremony, a baby's birth, an admission into a school, or a funeral.

I attached photos of the special envelope for weddings to put money in that you would like!

"寿" means celebration for wedding and "江川" is my name in Kanji!

The knots with strings in the middle of the envelope are called "Mizuhiki" – 水引. It has a long history and means that it connects people's hearts. I found an interesting site about "Mizuhiki".

There are main three types of knots in Mizuhiki. Please see the illustrations attached.

The first one is called "Hanamusubi". This can be untied, so it is used for events that are desired to occur repeatedly, such as a baby's birth or an admission into a school.

The second one is called "Musubikiri". This can not be untied, so this style is used for events that are not desired to occur again, such as a wedding or a funeral.

The third one is called "Awajimusubi". It means that people will have a good relationship forever and it is used both for happy events and sad events.

The envelope I attached is one of the special ones for weddings. So the knots of Mizuhiki are very gorgeous and artistic!

We can get a variety of wedding envelopes to put money in with artistic Mizuhiki in shops.

I hope you like it!

Ayako
Here's a video showing someone making Mizuhiki knots…
Here you can see a short video showing some Mizuhiki Knots…
The video below shows a Mizuhiki shop…
Here are some useful links:
How to Make Mizuhiki Knots (in English)
How to make a Mizuhiki Heart Knot
Many thanks to Ayako Egawa for sharing this wonderful custom with us and for the pictures!
Mama Lisa
This article was posted on Friday, October 1st, 2010 at 1:34 pm and is filed under Birth Customs, Countries & Cultures, Customs and Traditions, Gift Giving, Gift Giving in Japan, Japan, Japanese, Languages, Mama Lisa, Mizuhiki Knots, Wedding Gifts, Weddings, YouTube. You can follow any responses to this entry through the RSS 2.0 feed. You can skip to the end and leave a response. Pinging is currently not allowed.
One Response to "Gift-giving in Japan: Fancy Envelopes Tied with Symbolic Mizuhiki Knots"
NIPOCULTURA | A cultura japonesa ao seu alcance. // Mizuhiki Says:
February 16th, 2011 at 4:22 pm

[…] Mama Lisa's World Blog […]
Leave a Reply