Japanese Tradition of Climbing Mt Fuji
March 28th, 2014
I recently posted a song about Mt. Fuji and a haiku poem about a snail climbing Mt. Fuji. While I was working on them, I came across mention of there being a tradition in Japan of people wanting to climb Mt. Fuji during their lifetime.  I asked Sadao Mazuka who's from Japan about this tradition. Here's what he wrote…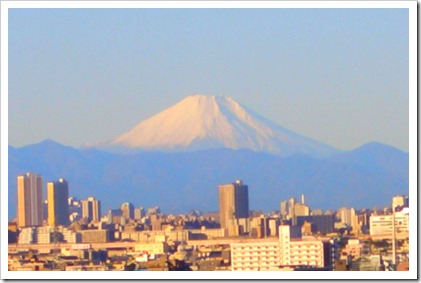 "It is a tradition for most Japanese people to try to climb Mt. Fuji, at least once in their life. The climbing routes of Mt. Fuji are very crowded in the summer. People climb at daybreak and try to pray when the sun is just rising from the horizon.  It doesn't seem like a religious act, but it's a tradition from old times.  I think it's rooted in old Japanese Shintoism.
If you do not have any rest at the cottages of each point, it takes about 5 hours to climb. But you'd be better off taking a break at the each point, and walking slowly like a snail. It's important to prepare for sudden weather changes, such as bringing a rain coat, padded clothes and mountain-climbing boots of course.
I can observe Mt. Fuji from my condominium every day when it is fine out. The lower mountains in front of Mt. Fuji are the Hakone mountains that old Japanese people passed through with difficulty on their way to the west, to places such as to Nagoya, Kyoto or Osaka."
Thank you for sharing Sadao!
Mama Lisa
Photo: Sadao Mazuka
Note: There is a Japanese proverb about climbing Mt. Fuji:
「富士山に一度も登らぬバカ、二度登るバカ」
English Translation:
"He who climbs Mt. Fuji is a wise man; he who climbs twice is a fool."
This article was posted on Friday, March 28th, 2014 at 12:22 pm and is filed under Climbing Mt. Fuji, Countries & Cultures, Customs and Traditions, Holidays Around the World, Japan, Japan, New Years, Proverbs, Traveling. You can follow any responses to this entry through the RSS 2.0 feed. You can skip to the end and leave a response. Pinging is currently not allowed.
6 Responses to "Japanese Tradition of Climbing Mt Fuji"
Leave a Reply