Cherry Blossom Viewing in Japan
April 1st, 2014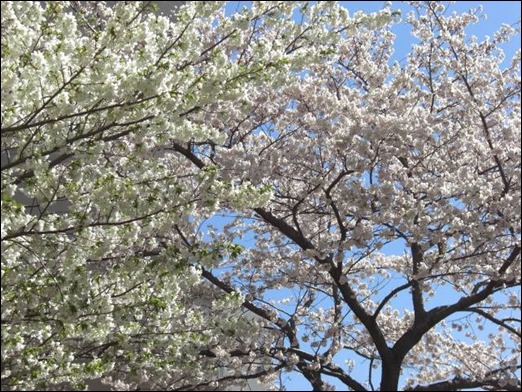 It's hanami time in Japan, when people view the cherry blossoms and picnic below their beautiful blooms.
The photo above was sent by Ayako Egawa.  Ayako wrote, "I took a pic of white sakura (cherry trees) and pink sakura… that's a really nice combination. White sakura is called 'ooshimazakura' and pink sakura is called 'someiyohino'."
Thanks for sharing Ayako!  Enjoy your hanami – cherry tree viewing!
Mama Lisa
One Response to "Cherry Blossom Viewing in Japan"
Lisa Says:
April 3rd, 2014 at 8:17 am

Hi, Lisa

These (below) are popular sakura songs in Japan. As you know, Sakura is special to the Japanese. It means not only joy of spring, but is also about the transience of nature. The blooming period is only a week.

Tones of both songs sound beautiful and sensitive. It fits for our feelings of sakura. These songs are chosen as best sakura songs according to the reserch of music recording campany.

Sakura by Ikimonogakarai is in fifth place.

http://www.youtube.com/watch?v=J5xJITdKWBU

Sakura 桜 by Naotaro Moriyama is in first place.
http://www.youtube.com/watch?v=p_2F2lKV9uA

There are some other sakura songs, which sound cheerful, too.

Ayako
Leave a Reply