Ideas to Encourage Your Child to Read
November 20th, 2008
This week I met with my daughter's 2nd grade teacher for parent teacher conferences. There was a hand-out for all the parents about ways to encourage your child to read.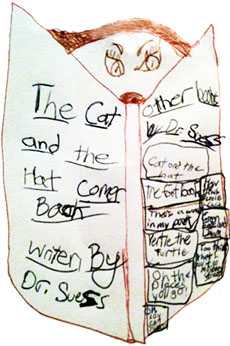 Here are some of the ideas I wanted to point out:
-Give magazine subscriptions as gifts (good idea with the December holidays approaching)
-Collect simple recipes and allow your child to cook them. There are some good cookbooks available at the local library for kids.
-Always leave lots of notes for your kids. Put them in their lunch boxes, at different places around the house, etc.
-Play board games that encourage reading.
-Buy your child books about subjects s/he loves – even if it's something like Barbie dolls or Pokemon. What's most important is that your child is interested in the subject and wants to read.
-Read classic chapter books to your child at night. Better yet, read them to the whole family. My husband reads books like The Wizard of Oz, Charlie and the Chocolate Factory and Harry Potter to all of us. We all look forward to this special time together at night.
-Find internet sites and computer games about topics your child enjoys. My son has been interested in the weather since he was in preschool. (He's in high school now.) He has checked the weather reports online since he was about 3 1/2 years old (no joke!). His interest progressed to reading and learning about the weather on weather related sites.
-If your child is singing a song and doesn't know all the lyrics, look them up with him/her. Let your child see the lyrics onscreen and try to read them. Every chance you get to have your child read is excellent no matter what the reason.
-Buy your child books s/he'll enjoy for the holidays.
Some books my kids have liked over the years are:
Captain Underpants Books
Henry and Mudge Series (younger kids)
Five Little Monkeys books by Eileen Christelow
Magic School Bus Books
Eric Carle/Bill Martin Jr Books
Amelia Bedelia
Fancy Nancy
Guinness Book of World Records
Ripley's Believe It or Not
Harry Potter Books
Roald Dahl's Books
I-Spy Books
Wizard of Oz Books
Dr. Seuss
Magic Tree House Series
Feel free to add any good ideas or recommended series in the comments!
-Mama Lisa

Thanks to Lila for the drawing!
This article was posted on Thursday, November 20th, 2008 at 3:27 pm and is filed under Books & Stories, Learning, Mama Lisa, Parenting, Reading, Reading, Teaching, Writing, Writing. You can follow any responses to this entry through the RSS 2.0 feed. You can skip to the end and leave a response. Pinging is currently not allowed.
One Response to "Ideas to Encourage Your Child to Read"
Monique Says:
November 21st, 2008 at 6:59 pm

About reading to your child at night: don't stop when s/he can read everything by her/himself. Reading at night is more about sharing than reading. When your child is more advanced s/he might be less interested in progressing since s/he'd feel her/his ability makes you care less.
Leave a Reply