How to Make Perfect Hard Boiled Eggs
April 25th, 2011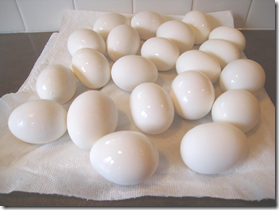 1.  Put your eggs in a single layer in a pot.  These are Large Eggs…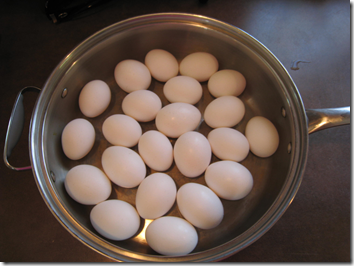 2.  Cover with cold water.  The water should cover the eggs plus go over them by an inch.  Some people add salt to the water to make it easier to peel the eggs later.
3.  Bring to a boil on medium-high heat.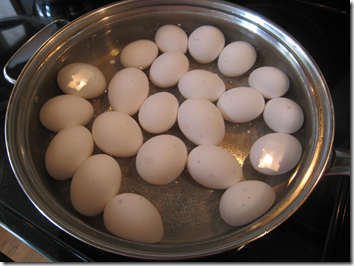 4.  When the water comes to a boil, cover the pot with a lid.  Take off heat immediately.  Let sit for 10 – 12 minutes.
5.  Once the eggs are done sitting in the hot water, douse them with cold water.  I let them sit in a pot of cold water for a couple of minutes.
6.  Take the eggs out and let them dry on a paper towel.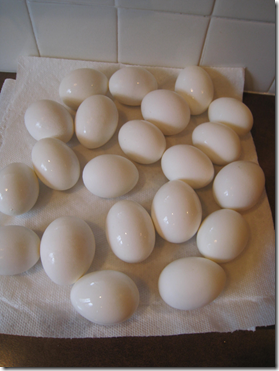 Below is a large egg after sitting in hot water for 9 minutes.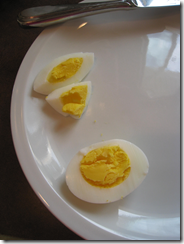 It's actually perfect for egg salad.  For eggs you're dyeing, you should keep them in the hot pot of water for 12 minutes.
Here's an egg after sitting for 12 minutes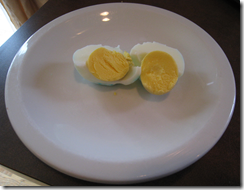 This is the best way to hard-boil eggs!  Really perfect!
Enjoy!
Mama Lisa
This article was posted on Monday, April 25th, 2011 at 12:05 pm and is filed under Cooking Eggs, Countries & Cultures, Easter, Easter Eggs, Holidays Around the World, How to Cook Hard Boiled Eggs, Recipes of the World, United Kingdom, USA. You can follow any responses to this entry through the RSS 2.0 feed. You can skip to the end and leave a response. Pinging is currently not allowed.
2 Responses to "How to Make Perfect Hard Boiled Eggs"
Marny Says:
April 27th, 2011 at 2:56 am

Cooking those eggs can be tricky but your way is sort of what I do. It's keeping the boiling time to no more than 15 minutes that gets me!! LOL

Just a minor typo: For eggs you're dying

I'm sure you meant: dyeing

Your site is amazing and my sincere thanks for all you have shared!!

Lisa Says:
April 27th, 2011 at 9:49 am

Thanks for the correction Marny! Do you mean you boil your eggs for 15 minutes? I used to boil simmer them but found that letting them sit in hot water after boiling them works better. I think some eggs will take longer, especially larger ones.
Leave a Reply