Greek Easter Egg Game
April 25th, 2011
Here's how you play the Greek Easter Egg Game…
1. Hard boil eggs and dye them red.  In Greece, it's traditional to dye eggs red for Easter.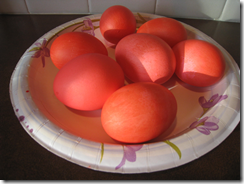 2. Two players pick an egg.  Player one clacks (taps) her egg on the top of player two's egg. 
3.  Both players turn over their eggs. 
4.  Player 2 clacks his egg on the top on player one's egg.
5.  You can continue the game with other players.
5.  Whichever player has the egg that didn't crack, or that cracked the least has the lucky egg!  They will have luck all year long!
Watch how it's done below…
Demonstration of Greek Easter Egg Game
Demonstration 2 of Greek Easter Egg Game
My sister-in-law Dale told me how some people will buy a wooden egg that looks like a real egg dyed red.  Then the person will use it in the game as a joke – because their wooden egg will always win against a real egg!
Many thanks to Dale and Corrina for sharing this tradition with us!
Enjoy!
Mama Lisa
This article was posted on Monday, April 25th, 2011 at 10:23 am and is filed under Countries & Cultures, Easter, Easter Eggs, Folk Lore, Games Around the World, Good Luck, Greece, Greek, Greek Easter Egg Game, Holidays Around the World, Languages, Superstitions. You can follow any responses to this entry through the RSS 2.0 feed. You can skip to the end and leave a response. Pinging is currently not allowed.
Leave a Reply