How to Make a Pretty Flower Cake – It's Easy!
August 3rd, 2008
In my last post, I explained how I made a number seven cake for my daughter's birthday. I also made a flower cake. This is even easier to make!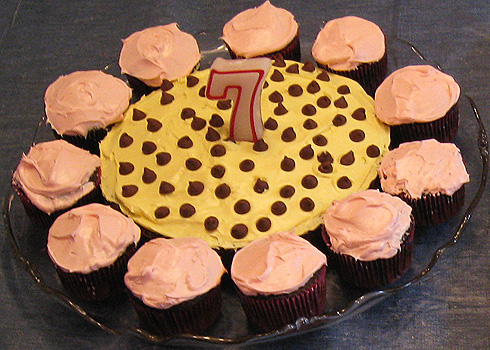 What you'll need:
One box of cake mix
White Icing
Food Coloring
Chocolate Chips
Large Platter (Preferably Round)
All you have to do is make one 8″ round layer cake and 12 cupcakes. You should be able to do this with one box of cake mix (at least in the US). Then you ice the cake. If you want it to look like a typical flower, you can use yellow icing on the round cake. You can do this by mixing a little yellow food coloring into white vanilla icing.
Then you can make the cupcakes have a different color icing for the petals of your flower. Mix another color food coloring with the white icing and spread it on the cupcakes. I made them pink by using a couple of drops of neon red food coloring. Then arrange the cupcakes around the round cake on a large round platter.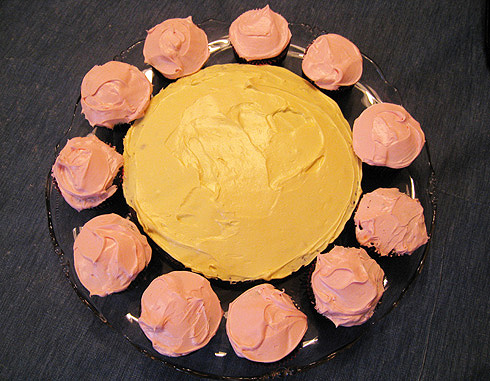 Then you can put the chocolate chips around the yellow icing on the cake to look like seeds.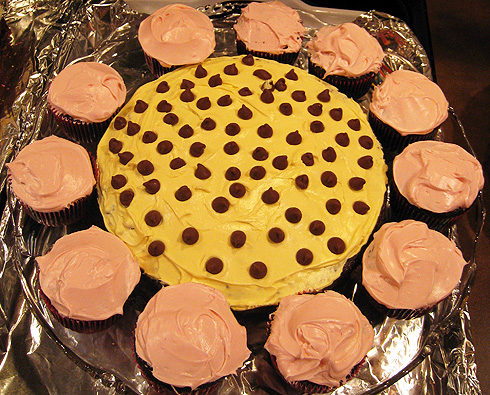 That's all you need to do to make a pretty flower cake!
Happy Baking!
Mama Lisa
This article was posted on Sunday, August 3rd, 2008 at 5:41 pm and is filed under Australia, Birthday Cakes, Birthdays, Countries & Cultures, Desserts, England, Flower Cake and Cupcakes, Holidays Around the World, Kids Parties, Mama Lisa, Parenting, Parties, Recipes of the World, United Kingdom, USA. You can follow any responses to this entry through the RSS 2.0 feed. You can leave a response, or trackback from your own site.
One Response to "How to Make a Pretty Flower Cake – It's Easy!"
Jenee Veroba Says:
December 30th, 2009 at 6:08 pm

Hi i read your site often and wanted to say all the best for 2010!
Leave a Reply