Housewarming Traditions in France and Around the World
July 10th, 2006
Joann wrote me…
I was wondering if the French have any traditions or special rituals for when someone buys new home.

I have found in the US a "new home blessing" with items that you would give to symbolize the blessing. Do the French have anything similar or something along those lines.

Any help would be greatly appreciated.

Thank you,

Jo-Ann
I asked Monique of Mama Lisa's World en français about French housewarming traditions. Here's what she said…
We usually invite friends for a party and we call that "pendre la crémaillère" , literally "to hang the trammel". In the Middle Ages, the trammel was the last thing fixed in the house, so when it was hung, people could cook a meal to thank whoever had helped with the building of the house. Guests usually bring a present for the house, either individually, or else they chip in.
A trammel was an iron hook or rack with hooks, built into the chimney, and used for hanging kettles and cooking pots over the fire.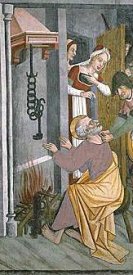 Please feel free to share information about housewarming customs or sayings where you live (in the comments below).
-Lisa
UPDATE: Come see a later post with some proverbs about having a house or about home.
This article was posted on Monday, July 10th, 2006 at 5:30 pm and is filed under Countries & Cultures, Customs and Traditions, English, France, French, Housewarming Traditions, Languages, Mama Lisa, USA. You can follow any responses to this entry through the RSS 2.0 feed. You can skip to the end and leave a response. Pinging is currently not allowed.
9 Responses to "Housewarming Traditions in France and Around the World"
Leave a Reply