Greek Holiday Cookies – Kourabiedes Recipe
December 22nd, 2011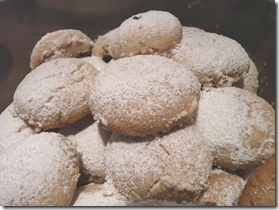 Kourabiedes are Greek shortbread cookies that are eaten for Christmas, Easter and Christenings.  Sometimes at Christmastime, they're made with a clove in the middle to represent the spices the three magi brought to Jesus as a gift.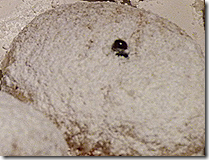 There are many variations of these cookies – so feel free to tinker with the recipe.  Here's how I made them…
Recipe for Kourabiedes
Ingredients
1 pound Butter
4 cups Sifted All-Purpose Flour
1 1/2 cup Superfine Sugar
2 1/2 cups Ground Almonds (or almonds chopped very fine)
2 Egg Yolks
4 T. Brandy* or Metaxa (a type of Greek brandy)
1 t. Baking Soda
Cloves (optional)
Rosewater
Powdered Sugar

*If you want to use less or skip the brandy altogether, then lessen the amount of flour.
1.  Melt butter and put in refrigerator to congeal.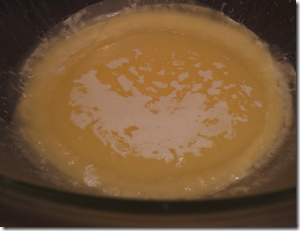 2.  Once the butter congeals, you can start preheating the oven to 350F.
3.  Meanwhile, whisk the butter until creamy and very light – about 8 to 10 minutes.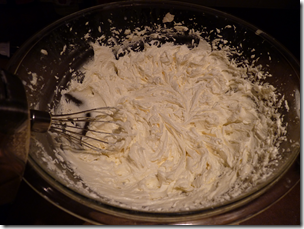 4.  Whisk in sugar, almonds, egg yolks, and brandy (if desired), until well blended.
5.  With a wooden spoon, mix in the flour and baking soda.  If you're not using brandy then start with 3 cups of flour and slowly add in more until you get a smooth dough.
6.  Roll the dough into balls (or crescent shapes) and place on ungreased cookie sheets.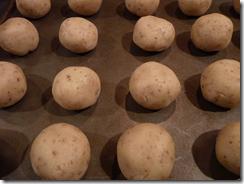 7.  If you're using cloves, put them into the middle of the cookies now.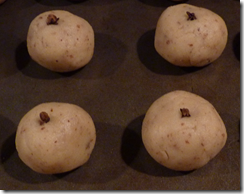 8.  Bake for about 20 to 25 minutes until done on the inside (you can check the center of one by cutting it in half).
9.  Put some rosewater in a little dish and brush a little onto the cookies.
10.  Put powdered sugar on the bottom of a tray and put the cookies on top of it while they're still warm.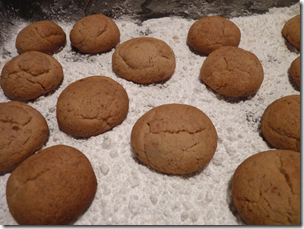 11.  Sprinkle confectioners sugar over the top of the cookies.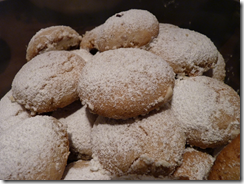 12.  The next day you can sprinkle another coat of confectioner's sugar over the cookies.  They're supposed to have a lot of powdered sugar.  Some sites even warn you not to inhale it because you'll cough – that's how much they normally have on them!  So far I put one coat on mine and they're a little messy but manageable!  My kids love them.
Enjoy!
Mama Lisa
This article was posted on Thursday, December 22nd, 2011 at 5:37 pm and is filed under Birth Customs, Christenings, Christmas, Christmas Cookies, Christmas Recipes, Cookies, Countries & Cultures, Customs and Traditions, Desserts, Easter, Easter Recipes, Greece, Greek, Holiday Recipes, Holidays Around the World, Kourabiedes, Kourabiedes, Languages, Recipes of the World, Weddings, Weddings. You can follow any responses to this entry through the RSS 2.0 feed. You can skip to the end and leave a response. Pinging is currently not allowed.
Leave a Reply