Gluten Free Sugar Cookies (with Dye-free Icing)
January 11th, 2013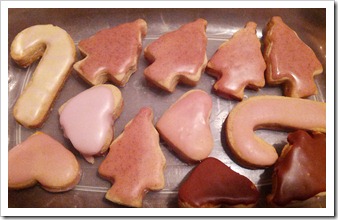 These Sugar Cookies are Gluten-free and made with icing that has no food dye in it!
When making gluten-free recipes, make sure beforehand that all your ingredients are gluten-free.

Recipe for Gluten-free Sugar Cookies
Ingredients
1 1/2 c. White Rice Flour
1 1/2 c. Oatmeal Flour
1/2 t. Salt
1/2 t. Baking Powder
1 1/2 t. Xanthan Gum
1 c. Butter (softened)
1 c. Sugar 
3 t. Vanilla Extract
1 large Egg
1.  Sift the white rice flour and the oatmeal flour into a bowl.
2.  Add the salt, baking powder, and xanthan gum to the flour mixture and mix well with a wooden spoon or a whisk.
3.  In a separate bowl, beat the butter and sugar together on medium speed until well mixed.  Add in the egg and vanilla and combine on low.
4.  Slowly mix in the flour on low speed. 
5.  At the end you may need to combine the dough together with your hands to make it smooth.  Shape into a ball.
6.  Wrap the ball of dough in plastic wrap and refrigerate for at least an hour.
7.  When the dough is ready, preheat the oven to 350 Fahrenheit.  Grease your cookie sheets.
8.  Put some white rice flour or oatmeal flour on the countertop, and roll out your dough to about 1/4".  (You can roll out half the dough at a time.)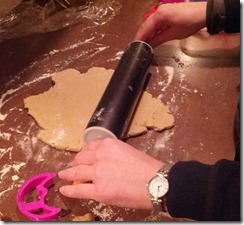 9. Cut out the shapes with cookie cutters.
10.  Place cookies on cookie sheets and bake for about 10 minutes, until golden brown.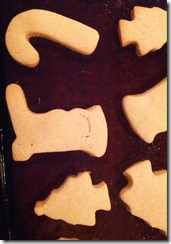 11.  Place on rack to cool.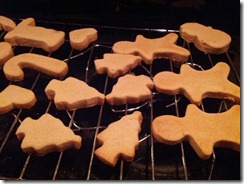 See instructions below for icing your cookies….
Sugar Cookie Icing (Dye Free)
I try to keep food dye out of my family's food as much as possible.  I'll explain below quick simple ways to color your icing naturally.  The colors are less vibrant but they look natural!  Like real food.
If you want to use food coloring for your icing, simply use the measurements below to make the icing (doubling the recipe).  Mix together the confectioners sugar with the water until you get a smooth consistency.  Then separate the icing into little bowls and add different color food dyes to each bowl to get the desired colors.
Basic measurements for the icing:
1/2 cup Confectioners Sugar 
2 t.+ Water
If you don't want to use food dyes, you can use some of these ideas:
Yellow: Mix the icing using the proportions above and add turmeric and a food extract that you like (such as almond, lemon or orange). This will give your icing a unique flavor.  (Note: The more turmeric you add the darker it will get.)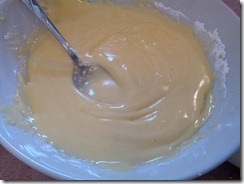 Yellow (2nd way):  Instead of using water in the recipe above, use orange juice with no pulp.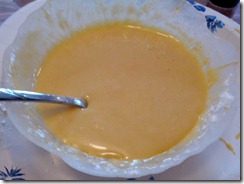 Pink: Use all-natural raspberry syrup or cherry juice as a replacement for water in the recipe above.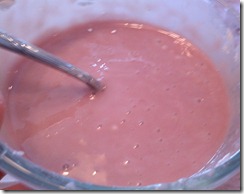 Purple: Use all-natural grape juice or blueberry syrup instead of water in the icing recipe.
Brown: Make chocolate icing with chocolate syrup and confectioners sugar.  This tastes particularly good!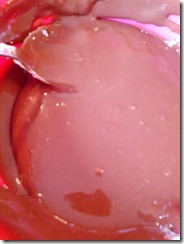 Be creative with the ingredients you're able to find… look for all-natural juices and syrups… add extract for flavoring.  Experiment!
Then ice your cookies…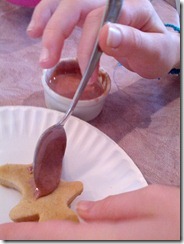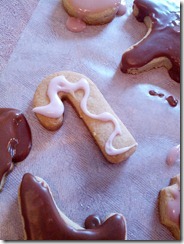 And enjoy!  Yum!
Mama Lisa
This article was posted on Friday, January 11th, 2013 at 12:12 pm and is filed under Christmas, Christmas Cookies, Christmas Recipes, Cookies, Countries & Cultures, Customs and Traditions, Decorating Cookies, Desserts, Gluten-Free Recipes, Gluten-Free Sugar Cookies, Holiday Recipes, Holiday Traditions, Holidays Around the World, Icing for Sugar Cookies, Recipes of the World, Special Diet Recipes, Sugar Cookies, USA. You can follow any responses to this entry through the RSS 2.0 feed. You can skip to the end and leave a response. Pinging is currently not allowed.
Leave a Reply