Video Game Gift Ideas for Kids
December 18th, 2008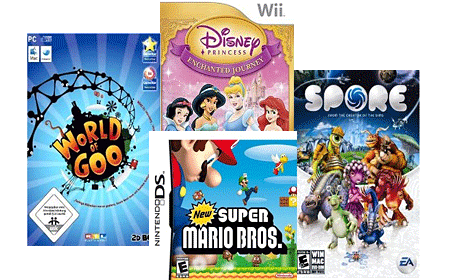 I asked my children to tell me what they'd consider to be their favorite video games. In case there are people out there still looking for last minute gift ideas, below are some recommendations.
I recommend going to Game Stop to buy video games since they're small stores that you can find anywhere. If you're looking online, you can also try Amazon.
Here are my teenage son's favorite games:
For the Wii:
For the DS:
For the PC (Computer):
Spore
World of Goo (It can also be downloaded onto the Wii*.)
For the N64 (Some old N64 games can be downloaded onto the Wii* – that's how my son played it):
Legend of Zelda: Ocarina of Time
Here are my 7 year old daughter's favorites:
Disney Princesses: Enchanted Journey – available for the PC, Wii and PS2
Littlest Pet Shop Video Game – available for the PC, Wii and DS
Bratz Baby Ponies – this is free online – all you need is a Flash player! You choose a pony and style its hair. Great for girls!
Frogger – another game that has a free version online – good for boys and girls (My daughter played it on the GameCube – which is an older system.)
For the DS:
For the PC:
World of Goo (It can also be downloaded onto the Wii*.)
Most kids seem to like games in the Mario Bros. franchise. You can see that Mario games are on both of my kids' lists and I've bought them for many other children in our lives who have enjoyed playing them.
If you're interested in stuffed animal and robotic animal gifts you can click the link to see an earlier post I wrote with recommendations.
Feel free to let us know about the games the kids you know like in the comments below…
Mama Lisa
*A Note About Downloading Games onto the Wii: There's a Wii Shop Channel on the Wii Menu on the Wii. You can buy a Wii points card at a video game store or you could by points through the Wii Shop Channel. To use the card you just enter the code on the card into the Wii Shop Channel and search for a game. If it's there it should come up. Most games cost $15 or less. 100 points costs $1. You can get old games on it and some games that are programmed specifically for it. The old games are from NES, SNES, N64 and some other systems.
This article was posted on Thursday, December 18th, 2008 at 1:16 pm and is filed under Birthdays, Computer Games, Countries & Cultures, Customs and Traditions, Games Around the World, Gift Giving, Gift Ideas, Holidays Around the World, Questions, Recommendations, Spore Creature Creator, Toys, United Kingdom, USA, Wii. You can follow any responses to this entry through the RSS 2.0 feed. You can skip to the end and leave a response. Pinging is currently not allowed.
Leave a Reply