French Self Taught – Online Book and Recordings
November 2nd, 2010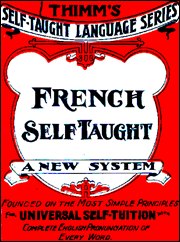 French Self-Taught, by Franz J. L. Thimm (1905) was just posted on Librivox with mp3 recordings.  (You can listen to it streaming on Internet Archive if you prefer a player.)  You can also read the book online while playing the recordings in the background.
The recordings are broken down by chapter on subjects ranging from French pronunciation and vocabulary to easy expressions.
Each word is said in English and repeated in French.  So if you're French, you can use these recordings to brush up on your English (though it would be backwards with the English first and the French second).
Check it out if you'd like to learn French (or English for a French speaker) or just brush up on your accent or vocabulary.
This article was posted on Tuesday, November 2nd, 2010 at 9:50 am and is filed under Books & Stories, Countries & Cultures, English, France, France, French, Language Sites, Languages, Languages, Languages, Learning, Online Books, Recommendations, Recordings, Recordings of Books, Teaching, Traveling. You can follow any responses to this entry through the RSS 2.0 feed. You can skip to the end and leave a response. Pinging is currently not allowed.
2 Responses to "French Self Taught – Online Book and Recordings"
Betsy Diamant-Cohen Says:
November 3rd, 2010 at 3:27 am

Hello,

I noticed in the Israeli song video, you asked if the child was singing a second song after the Itsy Bitsy spider, and the answer is YES!

It is a very popular song for preschoolers in Israel. Below is the transliteration and the translation:

Ha auto shelanu gadol v'yarok
Ha auto shelanu nosaya rahok.
Baboker nosaya, ba'erev hu shav.
Movil m'tnuva batzeem v'chalav.

Our car is big and green
Our car drives very far.
In the morning, our car leaves,
But in the evening, it returns….
Bringing us eggs and milk from Tnuva (the dairy cooperative)

Monique Says:
November 3rd, 2010 at 11:30 am

Betsy or anyone out there, could you please provide the Hebrew lyrics to the song so that we can post it on Mama Lisa's World Israel page? Thanks!
Leave a Reply