French Christmas Cookie Recipe from Alsace for Anis Bredele (Anise Cookies)
December 21st, 2015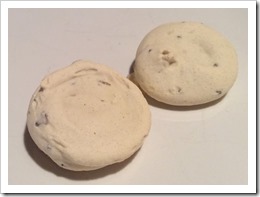 There's a type of cookie in France that's specifically made for Christmas.  It's called Bredele and they're from Alsace. Bredele are small, sweet biscuits.  There are many varieties including anis bredele (recipe below), butterbredle (similar to sugar cookies but with the addition of eggs) and pain d'épices (gingerbread).
I made anis bredele (Anise Bredele Cookies) this week.  They taste a bit like French Macaroons. They're really, really good! 
They have to sit for a few hours before cooking, so plan to start them in the morning.  Otherwise, you can let them sit overnight and cook them the following day. Here's the recipe…

Recipe for Anis Bredele (French Anise Cookies)
Ingredients
1 1/4 cup Sugar (250g.)
3 Eggs
1 Tablespoon Anise Seeds
1 3/4 cup Flour (250g.)
1. Line cookie sheets with parchment paper.
2. Mix the Sugar and Eggs in a mixing bowl with a hand mixer or a stand mixer. The mixture needs to thicken.  It'll take about 20 minutes to get the right consistency. In French they say it should form a ribbon when you rise the beaters from the batter. (See pics below.)
3. Gently fold in the Anise Seeds with a wooden spoon.
4. Gently fold in the Flour with a wooden spoon.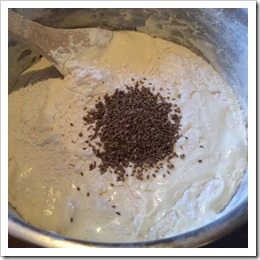 5. Once the batter is made you should work continuously. Put the batter in a pastry bag with a large round tip. Place 1 1/2 to 1 3/4" wide circles of the batter about 1 1/2 inches away from each other. (Alternatively, you can place the batter on the cookie sheets using two small spoons. One to pick up the batter, the other to push it from the other spoon onto the pan.)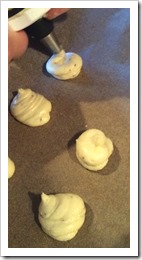 6. Fill the pans until you've used all the batter.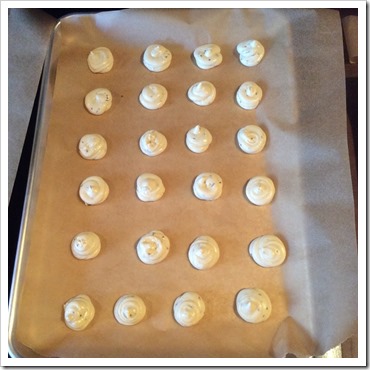 7. Let the cookie sheet stand on the back of the countertop at room temperature for at least 7 – 8 hours. The bredele should feel firm on the outside but soft on the inside.
8. Preheat oven to 300F (150C).
9. Cook for about 10 minutes until the bredele is just starting to become golden.
From the side you can see how these cookies look like "cake" on the bottom and "icing" on top. They actually taste somewhat like anise flavored French macaroons.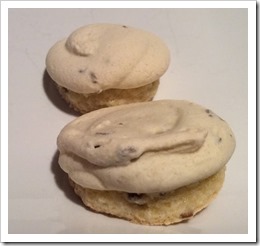 My circles were on the smaller side and this recipe yielded 70 cookies.
Bon appétit !
Mama Lisa
This article was posted on Monday, December 21st, 2015 at 9:44 pm and is filed under Alsace, Bredele, Christmas, Christmas Cookies, Christmas Recipes, Cookies, Countries & Cultures, Desserts, France, Holiday Recipes, Holidays Around the World, Recipe for Anis Bredele Cookies, Recipe for Anisbredela, Recipes of the World. You can follow any responses to this entry through the RSS 2.0 feed. You can skip to the end and leave a response. Pinging is currently not allowed.
2 Responses to "French Christmas Cookie Recipe from Alsace for Anis Bredele (Anise Cookies)"
Lisa Says:
December 21st, 2015 at 10:20 pm

Bredele has different pronunciations and spellings:

Bredele = "BRÉ-deu-leu" (and "BRÉdleu" when saying it quickly) and also "BRÉ-da-la".

There's another spelling – bretele in which case the pronunciation ends with an "lé" (lay) sound.

Bredele – French Alsatian Cookies Says:
December 22nd, 2015 at 10:13 pm

[…] out our recipe for anis bredela that's yum yum […]
Leave a Reply