Everybody Loves Saturday Night
May 12th, 2022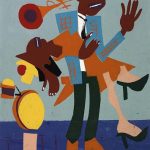 Written by Deanna deCampos, Director of Curriculum Development and Educational Services, Music Together Worldwide
I'd like to provide some feedback on your post about Everybody Loves Saturday Night. Our Song Advisory Board has done research on this song as it's in one of our Music Together song collections. The "common" story about it being a song about curfews is a myth. Our research traces the song to Ghana, not Nigeria, and it was a popular hit of the "highlife" genre. The first mention of this song in print that we can find is from 1932 when a dance club opened, called Tommy's:
A very enjoyable time was spent at Tommy's Club on Saturday night last… It is just the place where one should go to enjoy himself on Saturday night after all the toils and worries of a busy week. This, no doubt, inspired all to sing and dance so merrily to the tune played by the Orchestra entitled "Everybody Likes Saturday Night."
The first recording of this song that we've discovered is from 1942, well before the era of curfews imposed by the British Empire in the 50s. There is no compelling evidence that this song had anything to do with those practices. It's unfortunate that this myth remains in print and continues to be perpetuated by many well-meaning educators.
The lyrics are actually Yoruban, according to our research. We believe "Bobo waro…" is a westernized simplification of the Yoruban lyrics. The more accurate spelling of the lyrics would be:
Gbogbo eniyan feran ale Satide
Gbogbo eniyan feran ale Satide
Satide, Satide, Satide, Satide
Gbogbo eniyan feran ale Satide
I hope this feedback is helpful. There are so many songs in children's music that have been inaccurately described. As we learn and educate ourselves on these songs let's hope we can shift the discourse and correct past inaccuracies.
One Response to "Everybody Loves Saturday Night"
Kapila Says:
February 16th, 2023 at 9:02 pm

Thank you for the background information. To add to this, the language is Yoruba; Yoruban is not a common adjective, if at all accurate.
Leave a Reply