Ella Jenkins – A Life of Song
July 8th, 2011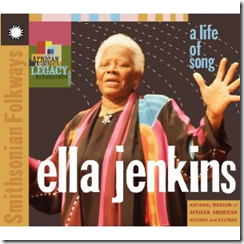 American children's folk singer Ella Jenkins released a new cd earlier this year.  It's called A Life of Song.
Ella's music is a lovely way to introduce kids to American folk songs and spirituals.  She actually sings some of the songs with children on this cd.
The cd starts out with Pick a Bale of Cotton.  Ella explains how she picked cotton for fun with her brother as a child when visiting her grandmother in Mississippi!  Then she goes on to a lovely rendition of this song with a group of kids.
On the cd you'll find a couple of versions of Little Sally Walker.  There are classic spirituals like, He's Got the Whole World in His Hands, Swing Low Sweet Chariot, and a stirring version of Amazing Grace.  Ella chose to sing Cotton-Eyed Joe slowly – it's perfect for learning the lyrics!  On Summertime, Ella recites the song first and then sings it.  These are perfect moments for teaching kids these classic songs. 
The last song "On My way to Canaan" is a lovely way to end this cd.
Here you can hear Ella sing Go Tell Aunt Rhodie (note: this song is not on the "A Life of Song" cd)…
Enjoy!
Mama Lisa
This article was posted on Friday, July 8th, 2011 at 8:16 pm and is filed under African American Spirituals, CD's, Children's Songs, Countries & Cultures, Ella Jenkins, Folk Music, Folk Songs, Historical African American, Music, People, Recommendations, USA. You can follow any responses to this entry through the RSS 2.0 feed. You can skip to the end and leave a response. Pinging is currently not allowed.
Leave a Reply