Cyclops Wearing Flip-Flops
July 7th, 2011
Cyclops Wearing flip-flops is a book of multilingual poetry.  There are poems in this volume by some of the masters… and they're translated by kids!  These children took part in a translation workshop called "Poetry Inside Out".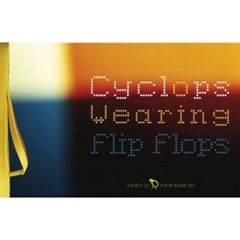 There are also original poems by some of the students in the book.  Here are a couple of them that I particularly liked…
A poem written by Yésica Martinez López, 4th grade:

The Dark Sky

like a huge
hole in the world
I see through my bedroom
window tiny stars
shining on
the dark sky

This poem includes a Spanish version:

El cielo oscuro

como un gigante
hoyo en el mundo
yo veo por la ventana
de mi cuarto chiquitas
estrellas brillando en
el mundo oscuro

A poem by Moisés Bello. 4th grade in Spanish with an English translation:

De los sabores

El mango amarillo y jugoso
escurriendo jugo en tu boca
como limón cayendo
al pescado caliente

Of the Flavors

The yellow and juicy mango
dripping juice in your mouth
like lemon dripping
on a hot fish
Cyclops Wearing flip-flops can also give teachers useful ideas for teaching poetry and translation to students. 
I highly recommend this book for students and teachers alike!
Enjoy! 
Mama Lisa
Leave a Reply