A una calavera (To a Skull) – A 500 Year Old Poem
July 6th, 2011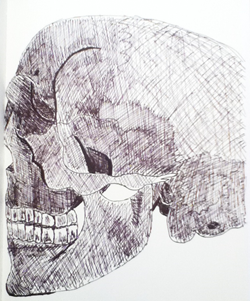 Here's a poem fitting for the Day of the Dead.  It's called A una calavera (To a skull) and was written by Lope de Vega (1562 – 1635), a Spanish poet and playwright.
A una calavera
by Lope de Vega
Esta cabeza, cuando viva, tuvo
sobre la arquitectura destos huesos
carne y cabellos, por quien fueron presos
los ojos que mirándola detuvo.

Aquí la rosa de la boca estuvo,
marchita ya con tan helados besos,
aquí los ojos de esmeralda impresos,
color que tantas almas entretuvo.

Aquí la estimativa en que tenía
el principio de todo el movimiento,
aquí de las potencias la armonía.

¡Oh hermosura mortal, cometa al viento!,
¿dónde tan alta presunción vivía,
desprecian los gusanos aposento?

To a Skull

This head, when alive had
On the architecture of its bones
Flesh and hair, by which the eyes,
That stopped to look at it, were made prisoners.

Here the pink mouth was
Fading already with such cold kisses,
Here the emerald eyes were imprinted,
Color that entertained so many souls.

Here the judgment that was
The source of all movement,
Here the powers of harmony. 

Oh mortal beauty, kite in the wind!,
Where such lofty presumption lived,
The worms despise the chamber.
Here's this poem set to song on a youtube video:
A una calavera was translated into English by Monique Palomares and Lisa Yannucci.  Monique works with me on the Spanish version of Mama Lisa's World.  The drawing of the skull is by Gracie Gralike.

This article was posted on Wednesday, July 6th, 2011 at 9:50 pm and is filed under Countries & Cultures, Holidays Around the World, Languages, Mexico, Poetry, Spain, Spanish, The Day of the Dead, The Day of the Dead Poems. You can follow any responses to this entry through the RSS 2.0 feed. You can skip to the end and leave a response. Pinging is currently not allowed.
Leave a Reply