Easter Bunny Poem
April 1st, 2012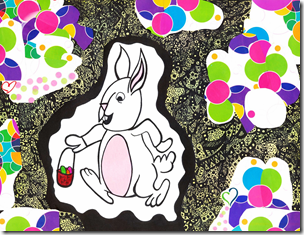 A Bribe for Bunny
By Marjorie Dillon
I made a nest my very best,
To hold my eggs from Bunny;
I wish he'd hop right in and stop—
Oh, wouldn't that be funny?
Some lettuce fine on which to dine
I left, in hopes he'll grab It:
What fun 'twould be, if I could see
That busy Easter rabbit!

Thanks to Gracie Gralike for sharing her Easter Bunny illustration!
This article was posted on Sunday, April 1st, 2012 at 2:59 pm and is filed under Countries & Cultures, Easter, Easter Eggs, Easter Poems, Easter Rabbits, England, English, Holidays Around the World, Languages, Nursery Rhymes about Easter, Nursery Rhymes about Holidays, Poems about Spring, Poetry, Poetry about the Seasons, Rhymes by Theme, USA. You can follow any responses to this entry through the RSS 2.0 feed. You can skip to the end and leave a response. Pinging is currently not allowed.
2 Responses to "Easter Bunny Poem"
Kelly Swayzie Says:
March 29th, 2021 at 7:24 pm

Hi, where does this poem come from? I tried to find it on the internet but couldn't.

Thank-you,
Kelly

Lisa Says:
March 29th, 2021 at 7:53 pm

It can be found in:

The Unitarian Register – Volume 101 – Page 330 (1922)
Christian Register – Volume 101 – Page 330 (1922)
Leave a Reply