Counting-out Rhyme called Zinty Tinty
April 1st, 2012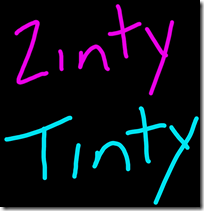 Rhiannon Daymond-King sent me a counting-out rhyme called "Zinty Tinty" with this note:
"I was taught a counting rhyme by my father, who said it came from his mother. Her mother was Swedish, so he thought it was in Swedish (or possibly Norwegian given that the part of the country she was from used to be part of Norway). Looking on the internet I have found several Scottish versions, and I know we have some Scottish ancestry, so perhaps it comes from there. Dad always thought it was something to do with Humpty Dumpty, I'm not sure why, perhaps because it was said with a similar tune.
I learned it as:
Zinty tinty, figgery fell,
Ell dell dominell,
Zutty putty toory rope,
Am tam toozy joke,
You are out!
Eerie oorie, eerie oorie,
You are out!
From what I've seen: This is an interesting mix because it includes bits from a rhyme from the Opies (authors of The Oxford Book of Nursery Rhymes):
'Zeenty teenty, Heathery bethery
Bumful oorie, Over Dover
Saw the King of easel diesel
Jumping over Jerusalem wall.
Black fish, white trout,
Earie, oarie, you are out.'
And also the only one that I have seen which is closest is:

'Eenerty, feenerty, fickerty, feg,
El, del, domun, eg,
Irky, birky, story, roc,
An, tan, toosh, joc.'

(Learned in 1850 at Inverness by Miss Joass, who recited it in 1892.)
Hope this interests you and if you find a version with correct spelling that people can agree on… I'd love to know it.
-Rhiannon Daymond-King
***
If anyone knows more about this rhyme or if you know a similar one, please share it with us below.
Thanks!
Mama Lisa
This article was posted on Sunday, April 1st, 2012 at 4:00 pm and is filed under Counting-out Rhymes, Counting-out Rhymes, Countries & Cultures, England, English, English Nursery Rhymes, Languages, Norway, Norwegian, Norwegian Nursery Rhymes, Nursery Rhymes, Questions, Readers Questions, Rhymes by Theme, Scotland, Scottish, Scottish Nursery Rhymes, Sweden, Swedish, Swedish Nursery Rhymes. You can follow any responses to this entry through the RSS 2.0 feed. You can skip to the end and leave a response. Pinging is currently not allowed.
27 Responses to "Counting-out Rhyme called Zinty Tinty"
Leave a Reply