Children and Idiomatic Expressions, and a Great New Kids Book
October 17th, 2008
Kids are funny.
My daughter was recently playing on her Gameboy (the handheld gaming system). I said something to her, but she was so absorbed that she completely didn't hear. So I commented to her friend, who was also there, that my daughter was lost in another world. Her friend asked, "Why? Was she trapped?" I explained that, no, I was just using an expression meaning "when someone is so involved in what they're doing that they don't notice anything around them".
It's in this type of spirit that the book Butterflies in My Stomach, by Serge Bloch was written. You follow the main character though his first day of school. It's full of idiomatic expressions that are illustrated literally. For example, the kid has butterflies in his stomach – so there's an ink drawing of the kid with actual butterflies in his stomach.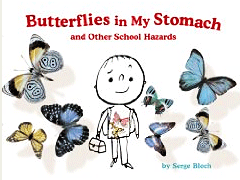 Many of these expressions are funny on their own. Children love the expression, "It's raining cats and dogs." Bloch has a page where cats and dogs are raining down from the sky. It's a hoot for kids to see this actually illustrated in a book.
The book gives you a chance to discuss these unique expressions with your child, in a funny way.
This article was posted on Friday, October 17th, 2008 at 12:06 pm and is filed under Australia, Authors, Books & Stories, Canada, Countries & Cultures, English, Idiomatic Expressions, Kids Books, Languages, Learning, Parenting, Reading, Reading, Recommendations, Teaching, United Kingdom, USA, Words & Phrases. You can follow any responses to this entry through the RSS 2.0 feed. You can skip to the end and leave a response. Pinging is currently not allowed.
One Response to "Children and Idiomatic Expressions, and a Great New Kids Book"
ronal flores Says:
April 2nd, 2011 at 8:05 am

i teach in a latin country and i would like to have expressions for my students, they are in 5th grade. if u can help me i will be so grateful.

by the way, u got a nice site
Leave a Reply