Childhood Toys
January 16th, 2014
Someone posted a picture on Facebook recently of this Fisher Price House from the seventies.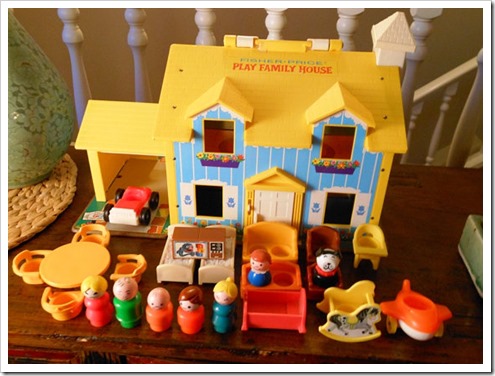 It may seem silly, but the floor dropped beneath me and I could remember being little and playing with that exact same house.  I was transported back in time for a split second and could remember being four years old.  I could remember parking that little red car in that little garage… sitting the family down at the table for dinner…  I could remember putting a person before the front door and ringing the doorbell and ringing that doorbell over and over again as if it was the funnest thing in the world! 
These little memories mean so much. 
This is part of the motivation behind Mama Lisa's World… to help people regain a little piece of their childhood through childhood songs and traditions.
It's so wonderful to hark back to a simpler time in life when ringing a doorbell could give you such great pleasure!
-Mama Lisa
Photo: Many thanks to Mark Trussell for sharing his photo from his Vintage Toy Store on Etsy.
4 Responses to "Childhood Toys"
Leave a Reply