Bunny Bento
April 1st, 2009
Check out this post for making bunny bento.  What's bento?  A Japanese lunchbox!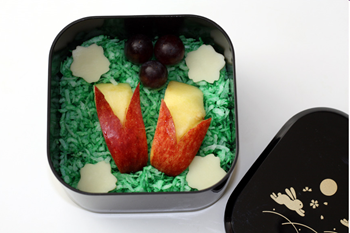 You can buy Japanese Bento Boxes at:
Ayako Egawa wrote from Japan: "Hi Lisa, bunny bento, which is the cutting style of an apple, is very popular in Japan in lunchboxes!"
A couple of days later, Ayako wrote to me: "Hi Lisa, those are my bunnies! (See photo below.) I put them in my lunchbox today."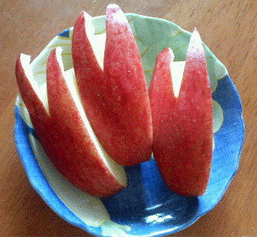 Thanks for sharing that with us Ayako!
-Mama Lisa
This article was posted on Wednesday, April 1st, 2009 at 9:43 pm and is filed under Bunny Bento, Countries & Cultures, Cuisine, Japan, Japanese, Japanese Cuisine, Languages, Recipes of the World. You can follow any responses to this entry through the RSS 2.0 feed. You can leave a response, or trackback from your own site.
Leave a Reply