Ram Navami a Hindu Festival
April 1st, 2009
Ram Navami is April 3rd this year. It's a Hindu Festival that's also called Ramanavami. It's a celebration of the birth of Rama.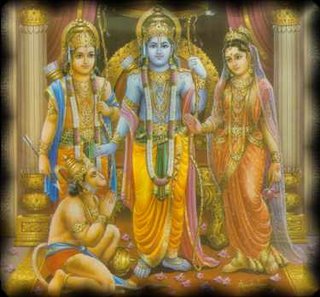 Vishnu is the supreme God according to the Hindu religion. There are 10 incarnations of Vishnu – they are known as the "Dasavatara" (dasa means 10 in Sanskrit). Nine of the incarnations of Vishnu are thought to have appeared in the past and the 10th is supposed to come in the future. Rama is the 7th incarnation. Ram Navami celebrates his birthday.
The Ramayana is a great epic poem of India. Rama is the hero of The Ramayana ("Romance of Rama"). On Ram Navami, people tell stories from this great poem.
The stories involve Rama, his brother, Lakshmana, Hanuman and Rama's wife, Sita. In some places there are Rama Navami processions with chariots carrying people dressed up as these four personages.
Some people also fast for this festival and exchange gifts with their loved ones.
This article was posted on Wednesday, April 1st, 2009 at 7:19 pm and is filed under Countries & Cultures, Hinduism, Holiday Songs, Holidays Around the World, India, Mama Lisa, Ram Navami, United Kingdom. You can follow any responses to this entry through the RSS 2.0 feed. You can leave a response, or trackback from your own site.
3 Responses to "Ram Navami a Hindu Festival"
Dmp Says:
April 3rd, 2009 at 10:51 am

That's a beautiful picture of Ram you have and a wonderful blog.Keep up the good work!

Thomas Pearson Says:
May 3rd, 2009 at 5:08 am

Very Interesting

Deepa Says:
August 27th, 2009 at 2:35 am

Its really a very impressive information on your blog. Keep it up.. I also visited this indian festival Karwachauth site, it has also very nice information.
http://www.karwachauth.com/
Leave a Reply