Boston Public Schools Changed to a More Accurate World Map
April 7th, 2017
Did you know that the map used in most schools in the United States and elsewhere around the world is inaccurate?
The map that's most often used is called the Mercator Map. It distorts the size of land masses as the latitude increases from the Equator to the poles. The Mercator Map shows Greenland as being bigger than Africa. In reality, Africa has 14 times the land mass of Greenland. That's 14 times larger! You can see how big Greenland looks on the Mercator Map below (it's the large white land mass at the top of the map, east of Canada)…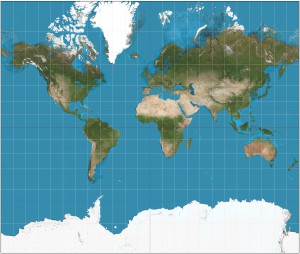 The Gall-Peters Map tries to eliminate these inaccuracies. It makes land masses of equal size on earth look equal in size on the map. You can see how large Africa actually is on the map below (compare it to the map above)…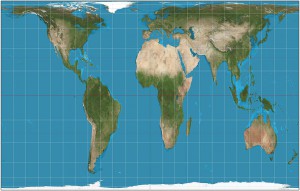 Boston Public Schools is the first in the US to adopt the more accurate Gall-Peters Map (they're already used in most British schools). This trend is important because it helps to teach students what the world it actually like.
-Mama Lisa
*****
Map Credits:
Mercator Projection by Strebe
Galls-Peters Projection by Strebe
9 Responses to "Boston Public Schools Changed to a More Accurate World Map"
Leave a Reply