Apple Season – A Recipe for Tarte Tatin
October 9th, 2007
It's apple season again. Why not charm your guests by making a French Tarte Tatin this year instead of the traditional Apple Pie?
Tarte Tatin is reminiscent of an upside-down cake in that you actually turn the tart upside down after baking it.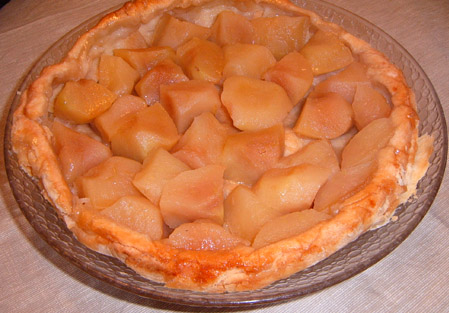 It's said to have first been made by mistake by one of two sisters who ran a hotel in France in the late 1800's. Her name was Stéphanie Tatin. The story goes that one day Stéphanie was in a rush while making an apple tart. She forgot to put the tart dough on the bottom of the tart pan. Realizing her mistake, she put the dough on the top of the apples. She cooked it that way and turned it upside down when it came out of the oven. It was délicieux! The tart was such a success that Stéphanie decided to start serving it to her guests thereafter!
The ingredients to make this tart are very simple. We used Red Delicious apples and bought pre-made pie dough to make it. The apples need to be firm, non-baking apples, so they don't get mushy.
Here's our recipe…
Tarte Tatin

5 Apples
1/2 cup Sugar + 2 T. to Coat the Pan
1/2 Stick Butter + 1 T. to Butter Pan
Pie Dough

Preheat oven to 350˚ F.

1) Peel and core the apples. Then cut them into quarters. Then cut the quarters in half in the other direction. Mix apples with the sugar to coat.

2) Melt the butter in a frying pan over medium to low heat. Sauté the apples until slightly tender on the outside.

3) Butter and heavily sugar a tart or pie pan. Place sautéed apples into pan.

4) Roll out pie dough so that it's big enough to cover the apples. Put the dough over apples and tuck edges of the dough down around the apples to touch the bottom of the pan.

5) Cook for 30-40 minutes or until the crust is golden.

6) When the tart is done, turn it over into a dish that has sides. The tart will now be upside down.

7) Serve warm with heavy cream poured over each slice if desired. You can also serve Tarte Tatin with vanilla ice cream.
Bon appétit!
-Mama Lisa
Many thanks to Monique Palomares of Mama Lisa's World en français for sharing this recipe with us!
I recommend that you cook this tart while singing Pomme de reinette!
UPDATE: Someone pointed out in the comments that the apples aren't caramelized enough in the photo above. I noticed in Julia Child's version of Tarte Tatin that she puts the tart under the broiler after turning it over (in step 6 above) to caramelize the apples more.
7 Responses to "Apple Season – A Recipe for Tarte Tatin"
Leave a Reply