All Saints' Day and All Souls' Day in Poland
November 2nd, 2013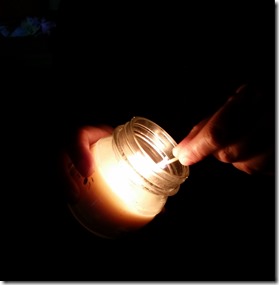 On All Saints' Day, Agnieszka Magnucka, who's from Poland, wrote:
"Light a candle for those who you love but who've passed away."
*****
That started a correspondence between us about All Saints' Day and All Souls' Day in Poland…
Lisa: Do you celebrate All Souls' Day in Poland?
Agnieszka: Yes, Lisa (November 1st is All Saints' Day, November 2nd is All Souls' Day).  Halloween came from the West and some people don't accept it.
Lisa: Here in the US, I believe there's a special mass in churches. I think mainly older people attend them though.
Do people trick-or-treat in Poland?
Agnieszka: I don't know as I've been 7 years in the UK – so my kids do.
Lisa: Is anything special done in Poland for All Souls' and All Saints' Day?
Agnieszka: We're a bit torn between the tradition (Saints'/Souls' Days) and the fun – Halloween.
We visit cemeteries to light a candle and usually after that we visit our closest families.
*****
Thank you for sharing your traditions with us Agnieszka!
If anyone else would like to share their country's traditions for All Saints' Day, All Souls' Day and/or the Day of the Dead, please comment below.
-Mama Lisa
Leave a Reply