About the Old Proverb "Early to Bed, Early to Rise…"
February 12th, 2008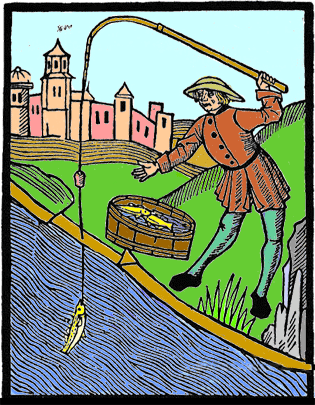 I have a correction to make – and investigating my error has led me to an interesting discovery. Way back in 2005, I was asked about the saying, "Early to bed and early to rise makes a man healthy, wealthy, and wise." At the time I attributed it to Benjamin Franklin. The saying was in Franklin's book "Poor Richard's Almanac" in 1735.
(An aside: Everyone has heard about Almanacs. They used to be very important. In Benjamin Franklin's time, everyone had one. They gave information about the tides, the cycles of the moon, seasons, the dates of the holidays, etc. You have to consider the times to realize their significance. For example, if you were going out at night, the cycle of the moon was important, since there weren't street lamps lighting the whole way!)
Franklin, as well as other almanac writers, peppered his book with witticisms and proverbs. "Early to bed and early to rise makes a man healthy, wealthy, and wise" is one of the sayings he used. This proverb actually originated long before Franklin's time. It was seen in print as early as 1496, in a piece called The Treatise of Fishing with an Angle. There it is referred to as an old English proverb:
Also whoever wishes to practice the sport of angling, he must rise early, which thing is profitable to a man in this way. That is, to wit: most for the welfare of his soul. For it will cause him to be holy, and for the health of his body. For it will cause him to be well, also for the increase of his goods, for it will make him rich. As the old English proverb says: "Whoever will rise early shall be holy, healthy, and happy."
So the proverb was around in some form before 1496, since they were already calling it old, even then.
After 1496, the proverb is found in print in other variations:
1523 – Early rising maketh a man whole in body, holer (holier?) in soul and richer in goods.
(Found in The Book of Husbandry by Sir Anthony Fitzherbert)
1577 – Rise you early in the morning, for it hath properties three: holiness, health and happy wealth, as my father taught me.
(Found in the Boke of Nurture by Hugh Rhodes)
Finally, in 1639 the proverb is seen in print in its current form in a book called Paroemiologia by John Clarke: "Early to bed and early to rise, makes a man healthy, wealthy, and wise."
Interestingly, there's another similar proverb from around 1830, "The cock doth crow to let you know, If you be wise, 'Tis time to rise."
The two proverbs came together to form the nursery rhyme:
The cock crows in the morn
To tell us to rise,
And he that lies late
Will never be wise:
For early to bed,
And early to rise,
Is the way to be healthy,
And wealthy and wise.
So remember – Go to bed early tonight!
-Mama Lisa
This article was posted on Tuesday, February 12th, 2008 at 3:35 pm and is filed under Authors, Ben Franklin, Benjamin Franklin, Books & Stories, Countries & Cultures, Early to Bed, Early to Rise, England, English, English Nursery Rhymes, English Proverbs, Languages, Nursery Rhymes, People, Poor Richard's Almanack, Proverbs, The Cock Crows in the Morn, United Kingdom, USA. You can follow any responses to this entry through the RSS 2.0 feed. You can skip to the end and leave a response. Pinging is currently not allowed.
9 Responses to "About the Old Proverb "Early to Bed, Early to Rise…""
Leave a Reply