A Glee for Winter – A Poem with Recording
January 13th, 2016
The poem, "A Glee for Winter" by Alfred Domett celebrates winter as a time to spend with family and friends singing and dancing. Below you can read the poem while listening to a recording. Enjoy! -Lisa
MP3 Recording of A Glee for Winter
Hence, rude Winter! crabbed old fellow, 
Never merry, never mellow! 
Well-a-day! in rain and snow 
What will keep one's heart aglow? 
Groups of kinsmen, old and young,     
Oldest they old friends among; 
Groups of friends, so old and true 
That they seem our kinsmen too; 
These all merry all together 
Charm away chill Winter weather.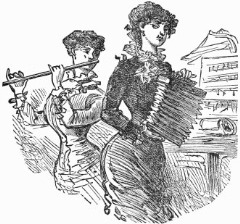 What will kill this dull old fellow? 
Ale that 's bright, and wine that 's mellow! 
Dear old songs for ever new; 
Some true love, and laughter too; 
Pleasant wit, and harmless fun,        
And a dance when day is done. 
Music, friends so true and tried, 
Whisper'd love by warm fireside, 
Mirth at all times all together, 
Make sweet May of Winter weather.

Read by Cori Samuel.
This article was posted on Wednesday, January 13th, 2016 at 6:54 pm and is filed under Countries & Cultures, England, English, Languages, Mama Lisa, MP3's, MP3's of Poems, Poems, Poetry, Poetry about the Seasons, Recordings, Recordings of Poems, winter. You can follow any responses to this entry through the RSS 2.0 feed. You can skip to the end and leave a response. Pinging is currently not allowed.
Leave a Reply