Song of Kites song is pronounced "Tako no uta" in Japanese.
たこの歌 (たこのうた)
Song of Kites
Children's Song
Children's Song

Kites are rising in the sky,
Catching fair winds far up high,
Rise and rise to the clouds that float,
Fly high up in the sky!

Kites are neat in the sky,
Dancing, leaping way up high,
Rising to the white clouds,
Fly high up in the sky!

Falling, falling is the kite,
Run and run to keep it high,
Oh, the kite is rising now,
Hold, hold your string tight!
Notes
Romanized Version:

1
tako tako agare
kaze yoku ukete
kumo made agare
ten made agare

2
edako ni jidako
dochira mo makezu
kumo made agare
ten made agare

3
are are sagaru
hike hike ito wo
are are sagaru
hanasu na ito wo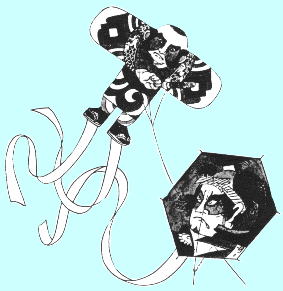 Computerized Text
(We apologize if this doesn't display properly on your screen):
Hiragana version

一、
たこたこ あがれ
かぜよく うけて
くもまで あがれ
てんまで あがれ

二、
えだこに じだこ
どちらも まけず
くもまで あがれ
てんまで あがれ

三、
あれあれ さがる
ひけひけ いとを
あれあれ さがる
はなすな いとを

Thanks to Susan Pomerantz for playing this tune on piano.
Sheet Music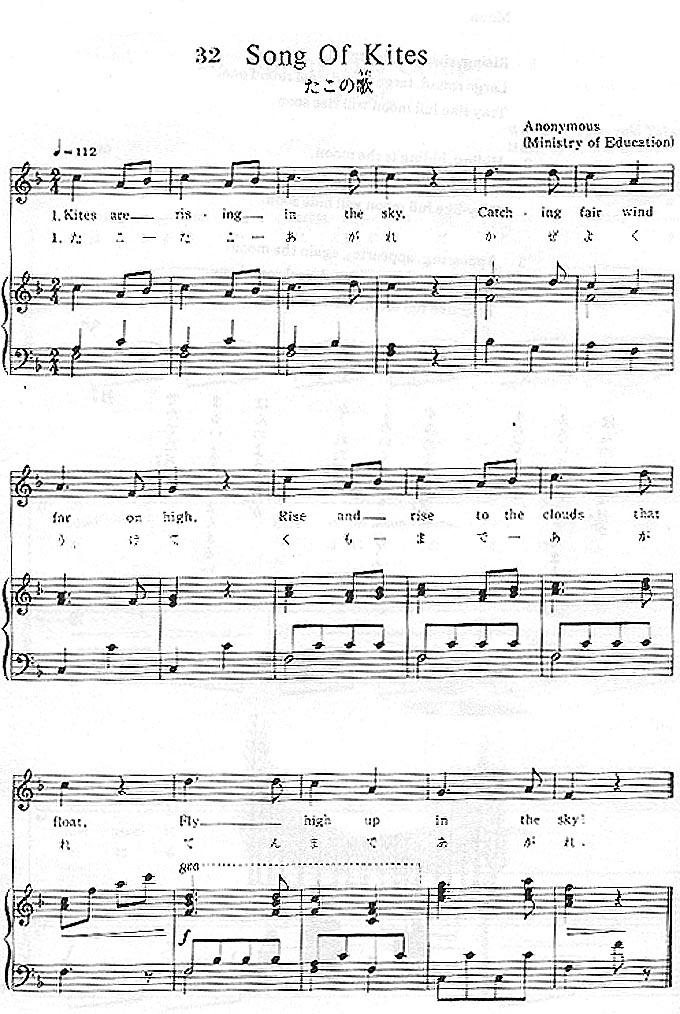 Thanks and Acknowledgements
Many thanks to the Japan Information and Culture Center, a part of the Embassy of Japan, for contributing this song, the English translation, the illustration and the musical score. Thanks to Petter Mæhlum for the Romaji text and the computerized Japanese version.
Arigato gozaimasu!