Tataki Zome – Printing with Plants
June 14th, 2021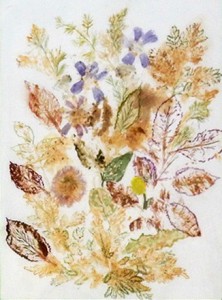 Written by Monique Palomares
Tataki zome is a Japanese technique of hammering plants to create printed patterns on fabric or paper. The term comes from the Japanese words tataki  meaning hammering, and zome meaning dying.
To print plants on paper you'll need:
-Watercolor paper (300gm =140 lb)
-A hammer or a smooth, rounded rock
-A plastic pocket for a binder -or any transparent, thin plastic sheet. A large ziploc bag would work too.
-A large wooden chopping board to avoid damaging the piece of furniture you'll be working on (or any thick, smooth board).
-Paper towels or fabric to clean the plastic pocket.
-Plants freshly picked (flowers and/or leaves). They shouldn't be too dry as they won't have enough "juice" to wet the paper. If they're too juicy, don't pound too hard or you'll get a large mark/big smear!
Work one plant at a time. You can have in mind what your final work will look like or you can create it as you go, but remember you can't go back and undo anything!
1. Put the sheet of watercolor paper on the board.
2. Place a plant on the paper and cover with the plastic pocket.
3. Gently pound on the plant through the plastic pocket. Gently, but not too gently!
4. Remove the plant and wipe the plastic pocket clean if need be.
5. Place another plant under the plastic pocket and repeat process until you're happy with your work.
You can make some missing parts better with a little watercolor.
Note that the colors will change: bright red turns dark crimson, yellow fades and becomes beige-ish. It might also fade over time.
You can to the same work on white fabric but it won't be washable.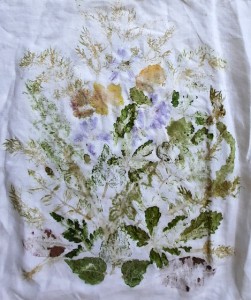 Many thanks to Monique Palomares for sharing this art form with us! Monique works with us on the French and Spanish versions of Mama Lisa's World. She also does some of the illustrations for songs and poems the site.
2 Responses to "Tataki Zome – Printing with Plants"
Monique Says:
June 19th, 2021 at 12:07 pm

Our art teacher, Christina Weising, taught us this technique last Summer when the lockdown was lifted but we couldn't yet gather indoors.

It might be experimented with by older and calm grade school children and/or teenagers under adult supervision, as you wouldn't want them to hurt themselves with the hammer. Though Christina advised us against doing so at school. At home, parents do as they think best.

Nicole Says:
October 8th, 2022 at 3:11 am

This is a beautiful, fun site. I just stumbled upon it when looking for a song in my head, D'ou vien tu bergere…Thanks so much.
I will explore further on your site now. I supply teach for Music class in a little elementary school on Manitoulin Island.
Take care.
Nicole
Leave a Reply