Rabbit
Children's Song
Children's Song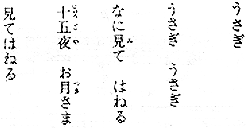 Oh, rabbit on the moon,
What are you leaping for?
I shall leap, I shall leap soon
At the large full moon!
Notes
Transliteration – Rōmaji (Romanji) of Rabbit

Usagi

Usagi usagi
Nani mite haneru
Juugoya o-tsuki-sama
Mite haneru

*****

The following information was told to me by my friend Ayako Egawa:

The Rabbit Song is associated with a Japanese festival called "JUGO-YA" (full moon night).

Some people gather to watch the beautiful full moon in Japanese gardens and temples. The green tea ceremony and KOTO playing are held. Pampas grass, SAKE, and DANGO (rice paste ball) are offered to the moon.

Japanese people associate the pattern of the moon's surface with rabbits making MOCHI, that is rice cakes.

Ayako translated the rabbit song like this:

"Pretty rabbit, what do you watch while hopping around?
I watch JUGO-YA moon while hopping around."

*****

You can read more about Jugoya on Mama Lisa's World Blog.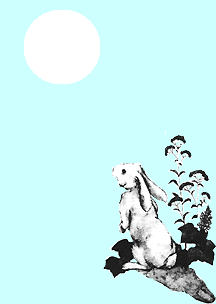 Comments
Here's the computerized text: (we apologize if it doesn't display properly on your screen):

うさぎ うさぎ

うさぎ うさぎ
何見て はねる
十五夜お月さま
見てはねる

Many thanks to HAMADA Miwa and team at the University of Toyama for allowing me to use the Usagi recording from their wonderful site of Japanese Songs. On their site you'll find the Japanese lyrics to many Japanese children's songs and folk songs. You'll find transliterations of the songs, recordings, midis and sheet music.
I'm grateful to Susan Pomerantz for playing this tune on piano.
Sheet Music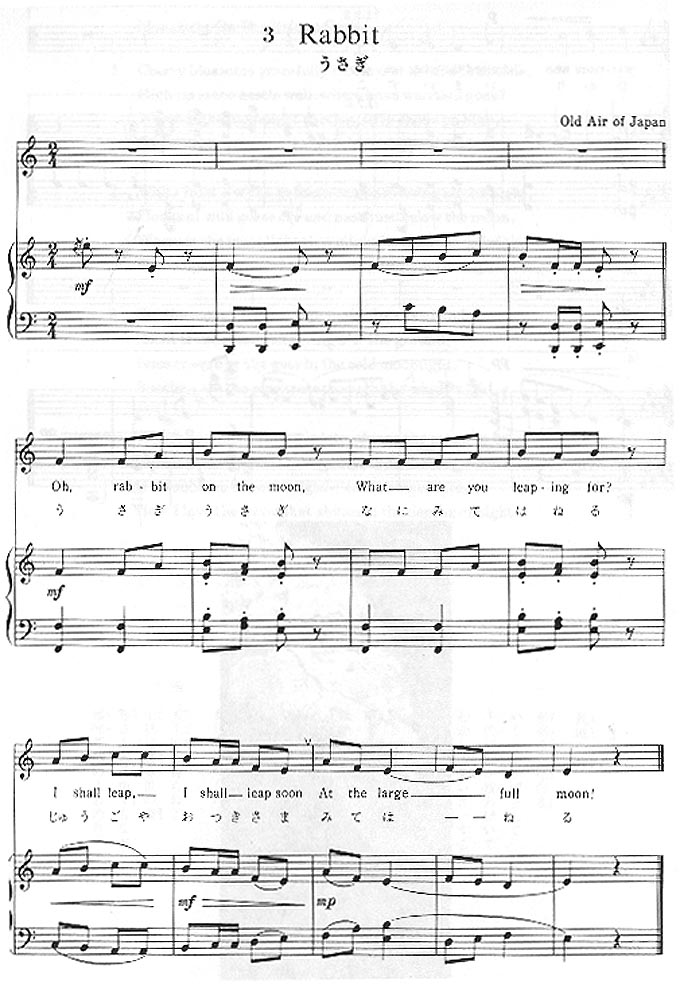 Thanks and Acknowledgements
Many thanks to the Japan Information and Culture Center, a part of the Embassy of Japan, for contributing "Rabbit", the words, the English translation, the illustration and musical score.

I would also like to thank Ayako Egawa for her interesting commentary and for her alternate translation.

Many thanks to Petter Mæhlum for the transliteration and to Harri Saptadi from Indonesia for the midi music.
Arigato gozaimasu!