Jugoya – The Full Moon Festival in Japan
February 4th, 2010
In Japan they celebrate Jugoya – the Full Moon Festival.  It's also a celebration of the harvest.  The day of the celebration varies since it's on the 15th day of the 8th lunar month of the Chinese calendar.  It's usually on the night of the full moon in August or September. 
Here's an illustration of a Jugoya display. It's a typical image of Jugoya.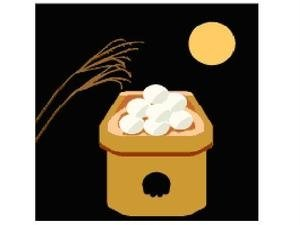 Ayako Egawa wrote about the festival:
We enjoy viewing the full moon and celebrating the harvest in Japan. We can especially see the beautiful moon in the clear sky at this time. The tradition of viewing a full moon is originally from China.  People enjoyed viewing the moon on small boats and writing tanka poetry (Japanese traditional poems from about 1000 years ago).

Japanese pampas grass and dango (rice dumplings), and vegetables such as taros and chestnuts are displayed on Jugoya in peoples' houses and apartments.

Here are some photos of a Jugoya display.

Dango is yummy!
Ayako also wrote:
Some people gather to watch the beautiful full moon in Japanese gardens and temples. The green tea ceremony and KOTO playing are held. Pampas grass, SAKE, and DANGO (rice paste ball) are offered to the moon.

Japanese people associate the pattern of the moon's surface with rabbits making MOCHI, that is rice cakes.

The Rabbit Song (Usagi) is associated with "JUGO-YA" (full moon night)…

Usagi

Usagi usagi
Nani mite haneru
Juugoya o-tsuki-sama
Mite haneru

Ayako translated the rabbit song like this:

"Pretty rabbit, what do you watch while hopping around?
I watch JUGO-YA moon while hopping around."
Thanks for sharing this with us Ayako and for the photos and illustration.  Thanks to HAMADA Miwa and team at the University of Toyama for allowing me to use the Usagi recording from their wonderful site of Japanese Songs.
You can visit our Usagi Song Page for the score, midi and Japanese text.
I find the Rabbit in the Moon image to be very interesting.  Here in the West we have the Man in the Moon.  I'd love to learn more about how different cultures see the moon.  Please share your country's image of the moon with us in the comments below.
Thanks and remember to take the time to view the moon when it's full – it's a wonderful sight!
Mama Lisa
This article was posted on Thursday, February 4th, 2010 at 11:26 am and is filed under Children's Songs, Countries & Cultures, Holiday Songs, Holidays Around the World, Japan, Japanese, Japanese Kids Songs, Jugoya, Jugoya Songs, Languages, MP3's, Recordings, Recordings of Songs. You can follow any responses to this entry through the RSS 2.0 feed. You can skip to the end and leave a response. Pinging is currently not allowed.
2 Responses to "Jugoya – The Full Moon Festival in Japan"
Full moon tonight, Jugo-ya in Japan! | Mama Lisa's World Blog Says:
September 22nd, 2010 at 4:42 pm

[…] is the full moon festival of Jugoya in Japan.  People view the moon and celebrate the harvest.  Celebrating includes the Green Tea […]

Ook Chung Says:
February 23rd, 2012 at 11:29 am

Yesterday, my mom who is 74 years young sang the song «Jugoya o-tsuki-sama» and what made it special is that she sang that very song 60 years earlier at her secondary school in front of a crowd of a thousant students! Boy was she nervous -but not as nervous, perhaps, as her older brother in the attendance who was not at all expecting this surprise appearance in their school singing contest! The prelude on piano to the song was unusually long, which made her nervousness painstakingly long, but she stood tall when came her turn to voice the lyrics. And she was awarded second place!
She hadn't sung that song ever since that time when she was just fourteen. But the words came out of her in a beautiful flow, as though they were fresh as yesterday. From what she told me, the story was different from a tale of a rabbit. It's about a young girl who looks at the moon and asks the Full Moon if (s)he saw her older sister who was bethrothed not long ago and, as customs went in those days, was taken away to her groom's village. If someone has the lyrics of this song, or better yet, a audiovisual recording of it, please email it to me at:
ookchung@hotmail.com
Sincerely,
Ook
Leave a Reply