Κάθεται η Λιλίκα στην βεράντα
Lilika Sits on the Veranda
Children's Song
Children's Song
Κάθεται η Λιλίκα στην βεράντα
κι'έχει το γατάκι της κοντά
και ένα καλαθάκι με γιρλάντα
έχει στην ποδιά της και κεντά

Λάμπει στο χεράκι το βελόνι
τραγουδούν τα χείλη που και που
και έτσι σε λιγάκι τελειώνει
μια σκουφίτσα μαύρη του παππού.

Κάτω οι μαργαρίτες στα χωράφια
Φαίνονται μ' ολόλευκη στολή
Τέτοιες μαργαρίτες με χρυσάφια
κέντησε στη σκούφια η Λιλή.
Lilika sits on the veranda
And she has her kitten nearby,
And a basket with garland
On her apron and she does needlework.

The needle shines in her little hand,
Her lips sing now and then
And in a little while, there!
She finishes a little black hood for grandpa.

The daisies down in the fields
Appear in an all-white suit
Like the golden daisies
Lily embroidered on the hat.
Notes
Pronunciation (the accented vowels are stressed)

káthete i lilíka stin veráda
ki éhi to gatáki tis kodá
ki éna kalatháki me girláda
éhei stin podhiá tis ke kedá.

lámbi sto heráki to velóni
tragudhún ta híle pu ke pu
ki étsi se ligáki telióni
mia skufítsa mávri tu papú.

káto oi margarítes sta choráfia
fénode m' olólefki stolí
téties margarítes me chrisáfia
kédise sti skúfia i lilí

"a" as in "father"
"th" as in "thick" and "thin"
"e" like in "bed"
"i" = "ee"
"h" like in German "ich" (a "y" as in "yes" but voiceless)
"dh" as "th" in "the", "this"
"u" = "oo"
"ch" as in "Bach" in German or "loch" in Scots

Sheet Music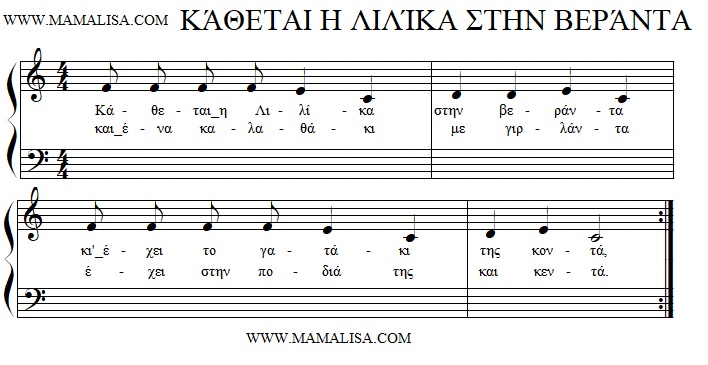 Thanks and Acknowledgements
Many thanks to Margarita Apostolidou for providing a transliteration of the song which lead us to the Greek lyrics. Translated by Monique Palomares.