An Australian version of the nursery rhyme "Little Miss Muffet"...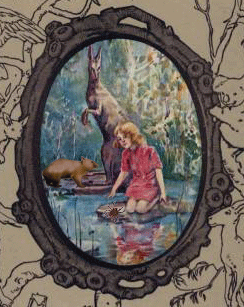 Little Miss Muffet Arose from Her Tuffet
Little Miss Muffet
Arose from her tuffet,
To box with the old kangaroo,
There came a big wombat,
To join in the combat,
And Little Miss Muffet withdrew.


Many thanks to Dave Wilks for recording this rhyme for us!

Thanks and Acknowledgements
This can be found in "Australian Nursery Rhymes", Bulletin, November 1908.

Image composed by Mama Lisa.