Popular Modern Australian Kids Songs
May 29th, 2018
Glenda Bennett wrote to us sharing some favorite modern Australian kids songs. Here they are with YouTubes from the artists official channels or else listed with a description of the song…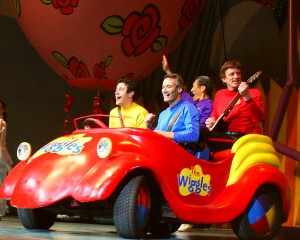 Rock-a-bye Bear from The Wiggles
Wash Your Face in Orange Juice by Peter Combs
Give Me a Home Among the Gumtrees by Bob Brown (co writer/original singer)
Some other songs Glenda mentioned:
Aunty Wendys Mob – We're Koori Kids – "Looks at one of the ways that Aboriginal people may choose to identify themselves as being an Aboriginal person." -NAICD
True Blue Wonders – Features sounds of a didgeridoo imitating Australian animals.
Wanjoo (The Welcome Song) by Gina Williams – A song written in Noongar Language.
Many thanks to Glenda for sharing these songs with us!
-Mama Lisa
Image from The Wiggles concert: By Led2life at en.wikipedia, CC BY 3.0.
Leave a Reply