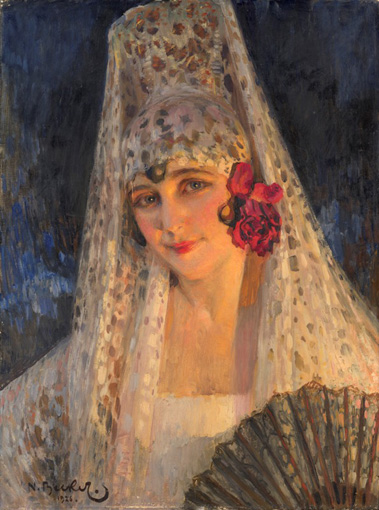 Un día de paseo
One Day While Walking
Canción infantil
Children's Song
Un día de paseo una señora
rompió con su sombrero una farola
al ruido del farol salió el director
- Pero dígame señora
¿Quién ha roto ese farol?

Perdone director que yo no he sido
ha sido mi sombrero el atrevido.
Si ha sido su sombrero
pues la multa pagará
Para que otro día
sepa su sombrero a dónde va.

No quiero más sombrero ni más farola
yo quiero una mantilla de cuatro bolas.
Para subir al cielo se necesita
una escalera grande y otra chiquita
si subo por la grande me da calambre
¡si subo por la chiquita me da salsita!
One day while walking, a lady
Broke a streetlamp with her hat.
At the noise of the lamp, the director came out…
"Well tell me, ma'am
Who has broken that light?"

"Excuse me director, it wasn't me,
It was my hat, this saucy one!"
"If it was your hat
Well, it'll have to pay the fine
So that on another day
Your hat will watch where it's going."

I don't want any more hats or streetlamps
I want a mantilla* with four balls.
To climb to heaven you need
A big ladder and a small one
If I go up the big one, it gives me a cramp
If I go up the small one, it gives me joy.
Notes
*A mantilla is "a traditional Spanish lace or silk veil or shawl worn over the head and shoulders, often over a high comb called a peineta, popular with women in Spain. The shape, design and use are different from an ordinary veil." –Wikipedia

There are other versions that begin with:

"Una señora iba en su paseo…" (A lady was on her walk…)
Or "Una señora gorda en su paseo…" (A fat lady on her walk…)
Or "Una señora gorda por el paseo…" (A fat lady on the avenue…)

In some versions, the gentleman is a director or a governor (gobernador) and the hat can be cheeky (atrevido) or absent-minded (distraído).

We have another version from Peru called, La señora y el sombrero.

It seems that the last 4 lines were borrowed from the song, "La bamba" as you can hear here at 0:47.

Thanks to Marlen Infante Ricardo for the recording!
Thanks and Acknowledgements
Thanks to Marlen Infante Ricardo for sharing this song with us. Translated by Lisa and Monique.

Image: Spanish Girl by Nicolas Berker (circa 1877).