One Child's Artwork about Being Diabetic
May 21st, 2010
This illustration was drawn by a diabetic child explaining the daily routine to be followed by a patient with diabetes in order to control the disease. The artist is from Cuba, so the text is in Spanish. I provided English translations below each image.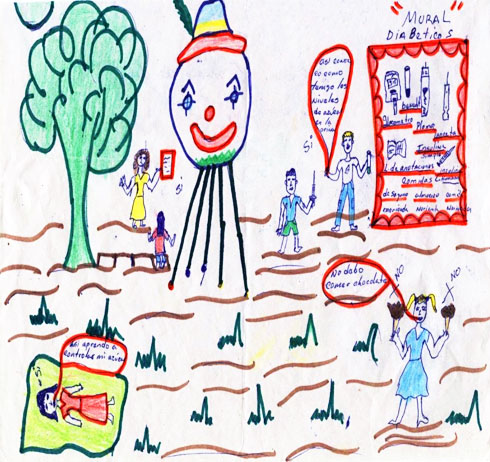 Here are zoomed-in views so you can see the details…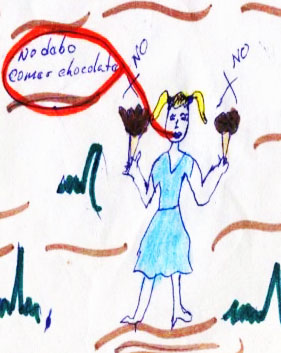 "No debo comer chocolate." – "I must not eat chocolate."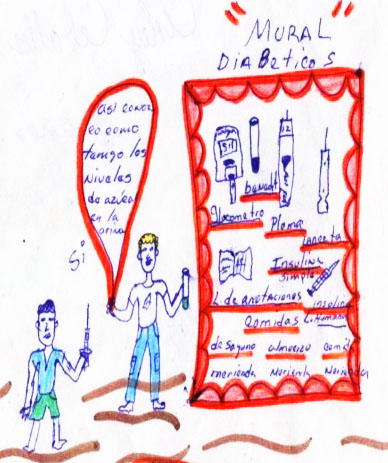 Top Left:
"Así conozco como tengo los niveles de azúcar en la orina."
"Thus I know what are the levels of sugar in my urine." (i.e. By testing it.)
Top Right:
Mural diabeticos – Diabetic Mural:

Glucometro – Glucose Meter
Lanceta – Lancet
Libro de anotaciones – Logbook
Insulina Simple – Regular Insulin (we think this is the English equivalent)
Comidas – Meals
Desayuno – Breakfast
Almuerzo – Lunch
Comida – Dinner
Merienda – Snack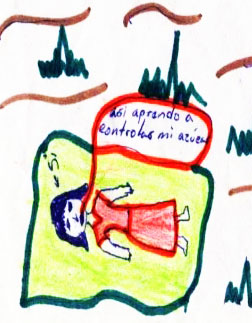 "Así aprendo a controlar mi azúcar." – "Thus I learn to control my sugar."
This turns out to be a little guide for Spanish and English words about diabetes. If anyone would like to provide more Spanish/English words to help kids with diabetes, please comment below.
Thanks to Monique Palomares from the Spanish version of Mama Lisa's World for helping with the translation!
Mama Lisa
This article was posted on Friday, May 21st, 2010 at 4:45 pm and is filed under Arts and Crafts, Cooking with Kids, Countries & Cultures, Cuba, Food and Nutrition, Healthy Eating, Kids Drawings, Languages, Mama Lisa, Spanish. You can follow any responses to this entry through the RSS 2.0 feed. You can skip to the end and leave a response. Pinging is currently not allowed.
Leave a Reply