This is a song about a man getting his wife back from the fairies who kidnapped her. It has the same theme as A Bhean Úd Thíos (O Lady Down Yonder).

In the recording by Eddie Butcher, he sings this song below right after explaining, "Well this is a man who was married. And the fairies stole his bride. And he didn't know how to get her, he couldn't get her… he went to the fairies and she told him what to do. She told him…"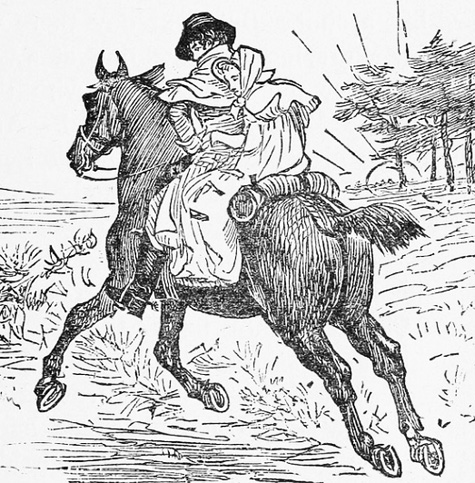 Saturday Night is Hallowe'en Night
Saturday night is Hallowe'en night
The quality's all to ride
And he who has his bride to meet
At the Five-Mile Brig he'll bide.

First you'll meet the black
And second you'll meet the brown
And catch the bay by the bridle rein
And pull the rider down.
Notes
*Quality here means aristocracy, upper rank.

After singing the song, Eddie Butcher concludes with, "And then he got his wife."

In the song, the fairies go out to ride on their horses. The man's wife is on the bay horse. He has to pull her down from the horse to rescue her.

Listen to Eddie Butcher sing Saturday Night is Hallowe'en Night here.

This song is based on the Scottish Ballad called Tam Lin.

Sheet Music