There are four Castles of Dromore in Ireland located in the counties of Down, Kerry, Limerick and Tyrone. No one can say for certain which Castle Dromore the song is about.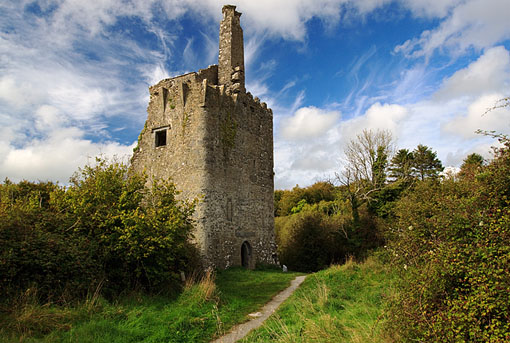 The October winds lament
Around the castle of Dromore
Yet peace is in her lofty halls,
My loving treasure store.
Though autumn leaves may droop and die
A bud of spring are you.

Sing hush-a-by lull-a-loo, la lan,
Sing hush-a-by lull-a-loo.

Bring no ill will to hinder us
My helpless babe and me
Dread spirits of the Blackwater,
Clan Eoen's wild banshee (1)
And Holy Mary pitying us
In Heaven for grace doth sue.

Sing hush-a-by lull-a-loo, la lan,
Sing hush-a-by lull-a-loo.

Take time to thrive my ray (2) of hope
In the garden of Dromore
Take heed young eaglet
Till thy wings are feathered fit to soar
A little rest and then the world (3)
Is full of work to do.

Sing hush-a-by loo,
La-lo, la lan sing hush-a-by loo la lo.

Notes
(1)The banshee is "a female spirit in Irish mythology who heralds the death of a family member, usually by wailing, shrieking, or keening." (Wikipedia) This verse seems to be about the mother's hope that her baby doesn't die in infancy.
(2) Or "rose".
(3) Or "our land".

*****
Tune: Old Irish Air (possibly from the song "My Wife is Sick").
Lyrics: Harold Boulton (1892). Boulton was from England.

There's an Irish Gaelic translation by Douglas Hyde that was written later.
Link to Score with English and Gaelic lyrics.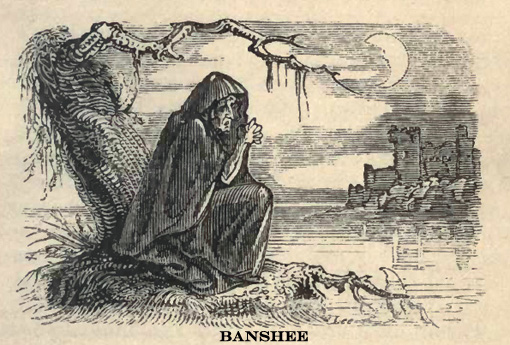 Thanks and Acknowledgements
Photo: Mike Searle / Castles of Munster: Dromore, Clare / CC BY-SA 2.0.

Image of Banshee: Bunworth Banshee, "Fairy Legends and Traditions of the South of Ireland", by Thomas Crofton Croker, 1825.