This is a Greek version of "Frère Jacques"….

(The pronunciation is in the Notes.)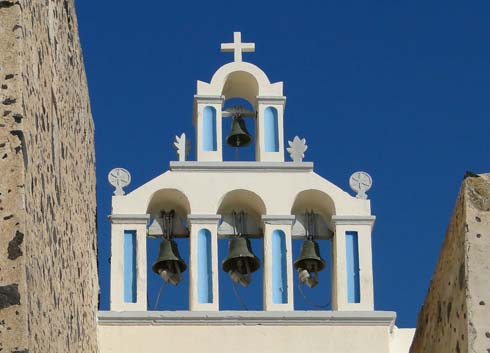 Αδελφέ Ιάκωβε
(Adelfe Iakove)

Brother Jacob
Children's Song
Children's Song
Αδελφέ Ιάκωβε,
αδελφέ Ιάκωβε
κοιμάσαι,
κοιμάσαι
σημάνετε τον όρθρο,
σημάνετε τον όρθρο,
Ντιν, ντιν, ντονγκ,
ντιν, ντιν, ντονγκ.
Brother Jacob,
Brother Jacob
Are you sleeping,
Are you sleeping?
Ring the morning bells
Ring the morning bells,
Ding, dang, dong,
Ding, dang, dong,

Notes
Pronunciation:

Adhelfay iakovay,
adhelfay iakovvay,
kimassay,
kimassay,
simanaytay ton orthro,
simanaytay ton orthro
Ding dang dong,
Ding dang dong

Thanks and Acknowledgements
Image: Wikipedia, Bells of church in Fira, Santorini, Greece, cc.