This is a very popular nonsense folk song from the Philippines.

San Roque is a mythical town in Philippine folklore. It may sometimes be used as a metaphor that things aren't always as they seem to be.
Doon Po Sa Amin
(Awit ng Pulubi)
Beggars of San Roque
Doon po sa amin, bayan ng San Roque
May nagkatuwaan apat na pulubi;
Nagsayaw ang pilay, umawit ang pipi,
Nanood ang bu-lag, nakinig ang bingi.

Doon po sa amin maralitang bayan,
Nagkatay ng hayop, Niknik ang pangalan,
Ang taba po nito nang maipatunaw
Ang nakuhang langis siyam na ta-payan.

Doon po sa amin, bayan ng Malabon,
May isang matandang nagsaing ng apoy,
Palayok ay papel, papel pati tungtong
Tubig na malamig ang iginagatong.

In our town of San Roque
Four beggars were having some fun
The crippled man danced, the mute sang,
The blind man watched, the deaf man listened.

In our humble town that we proudly called our own,
People slaughtered insects called gnats,
From the fattest of these bugs when cooked and drained
Came oil that filled nine vats.

In our town of Malabon City,
There's an old man whose fire boiled
In a paper pot on a paper stove,
For fuel he used cold water.

Comments
Please email me any other versions of this song you may know. Thanks! Mama Lisa


You can hear some of the verses in the rendition below…
You can hear the 1st verse in the video below. The other verses have different lyrics.
Sheet Music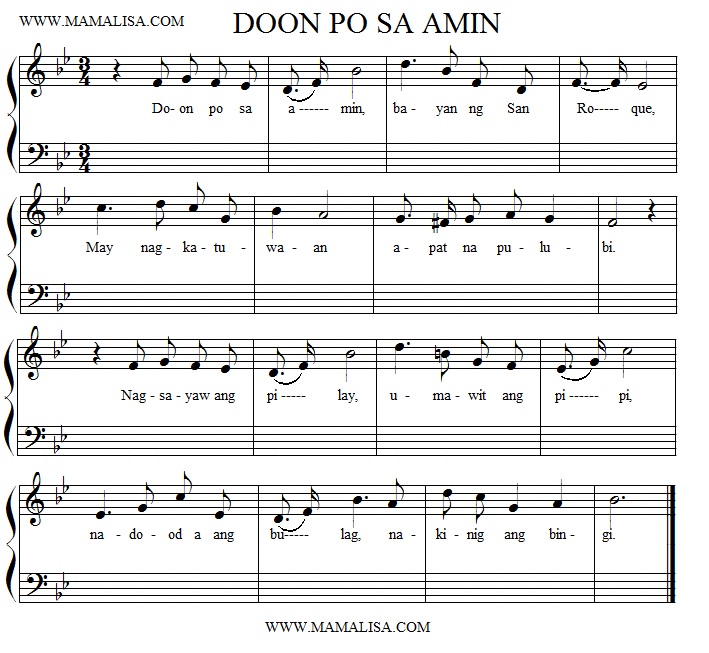 Thanks and Acknowledgements
Loose translation by Lisa. Please email me if you'd like to suggest any improvements to the translation.