Avocado Smoothie from the Philippines
December 2nd, 2008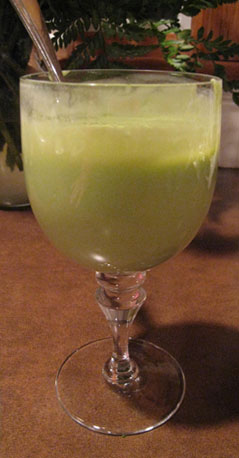 Nep, from the Philippines, gave me this recipe. She told me that it's very popular in her home country.
It's very easy to make this drink and you can adjust it to your family's taste. It's a quick way to introduce children to cuisine from another country. My kids liked it and they wanted more!
All you need is one Hass avocado per glass of smoothie. These are the smaller, darker avocados. You'll also need milk or condensed milk (Nep makes it with milk, but on further research I noticed that some Filipinos make it with condensed milk), and sugar to taste.
Some people add ice to make it like a shake.
Add all of the ingredients in a blender and mix well. Again you can make it the consistency you desire. This drink is very changeable to individual taste. I made ours on the thinner side with skim milk – though it was still a thick drink because of the avocados consistency.
Below you can see the photo of how thick it was before I added a lot more milk…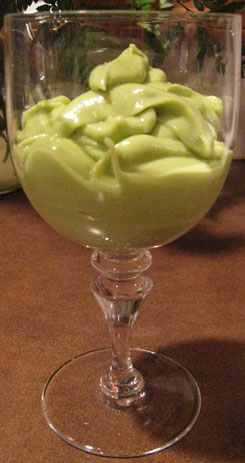 You can chill it if desired before drinking. We had ours at room temperature and it was delish!
Enjoy!
Mama Lisa
Note: The Travelers Lunchbox optionally adds any of the following to this drink: a few drops of orange extract, some vanilla, rum or coffee. The orange extract sounds the most interesting to me!
3 Responses to "Avocado Smoothie from the Philippines"
Lyn of MyFilipinoRecipes Says:
September 4th, 2010 at 5:15 pm

Wow – your avocado smoothie look so, so good! I've always loved avocados but have never tried making a drink out of it! I will surely be trying this one! Thank you for sharing.

Drink your greens: Avocado smoothies Says:
January 28th, 2012 at 11:52 pm

[…] that yes, in fact, these are very popular in the Philippines, only they make them differently, using condensed milk and/or sugar. Sounds yummy, but I'm gonna stick with the healthier […]

Lisa Says:
January 29th, 2012 at 12:30 am

Great idea from the previous commenter to make a somewhat different avocado drink (even if it's not the authentic Filipino version – it sounds yummy):

Paraphrased: Scoop out two avocados into a blender and add four pitted dates. Pulped this up, then added plain almond milk while blending until you get the consistency you desire.

We don't have easy access to figs where I live so, I'll probably stick to using the skim milk as in the recipe in the post and perhaps one day I'll try it with almond milk (without figs).
Leave a Reply