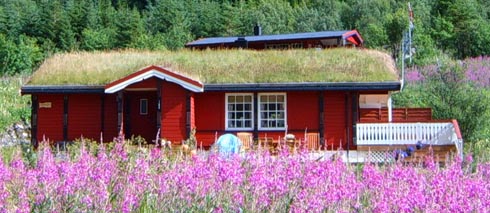 Byssan lull, liten tull
Hush-A-Bye, Little Bundle
Byssan lull, liten tull'
Sei me hadde stovå full
av slike små'e jenta'
Kjøkkenet, spisskammerset,
Og haugen oppå takjet.
Hush-a-bye, little bundle*
Say we had a living room full
Of such tiny girls,
The kitchen, the larder,
And the heap** on top of the roof.
Notes
*tull= bundle, tulle=baby girl
**"The heap" is a distorted word of unknown meaning. One thought about the heap or pile (hågen, haugen) on the roof: it might refer to the way the roofs were made on the old houses and cottages: first a birch bark layer, earth on top of that and then grass or turf on top. In some old drawings for children that I have seen, these turf roof cottages also pictured goats eating grass on top! One could imagine not only kiddie goats up there..." -Siri


Thanks and Acknowledgements
Many thanks to Siri Randem from Barnesanger for sharing this song with the translation.

Photo : Monique Palomares
Tusen takk!