Norwegian lullaby from Vesterålen
Kysje, roe bane-gull
Hush, Calm, Golden Child
Kysje, roe bane-gull (barnegull),
Gje vi hadde stua full,
Kjøkkenet og kammerset,
Og hågen oppå taket.
Då sku' alle vøgge gå,
Fir' og tjuge i kvar ei krå
Og ingen sku' stå stille.
Hush, calm, golden child,
Wish we had the living room full,
The kitchen and the bedroom
And the "place" on top of the roof.
Then all cradles would rock
Twenty-four in every nook and cranny
And none would stand still.
Notes
*"The place on the roof: "Hågen" is possibly a distorted archaic word. No real meaning today as far as I know. Albeit I have heard that some small cottages sometimes had a kind of platform or look-out on top of their roofs with a ladder up tops, but this is speculation."-Siri

Recording by Siri Randem.
Sheet Music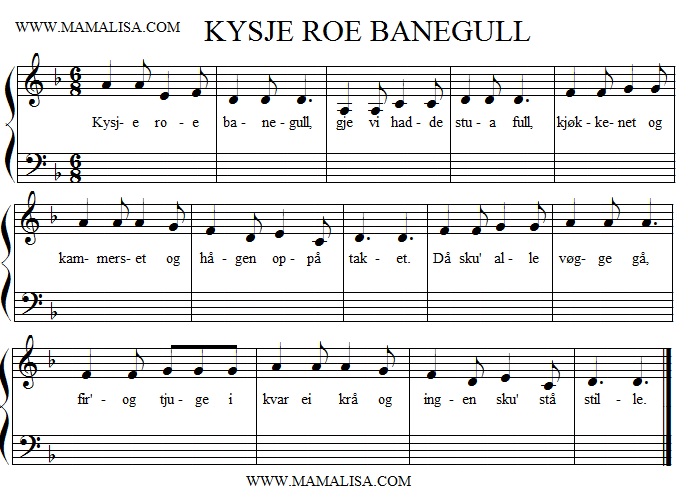 Thanks and Acknowledgements
Many thanks to Siri Randem from Barnesanger for sharing this song with the translation and the mp3.
Tusen takk!