Gartan is a parish in Donegal County, Ireland.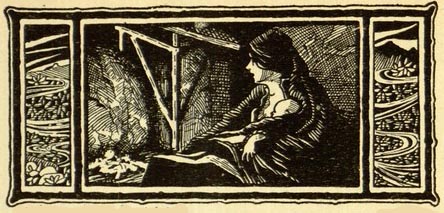 The Gartan Mother's Lullaby
(Chorus)
Sleep, O babe, for the red bee hums
The silent twilight's fall
Aoibheall (1) from the Grey Rock comes
To wrap the world in thrall.
A leanbhan O (2), my child, my joy,
My love and heart's desire,
The crickets sing you lullaby
Beside the dying fire.

Dusk is drawn, and the Green Man's Thorn (3)
Is wreathed in rings of fog:
Siabhra (4) sails his boat till morn
Upon the Starry Bog.
A leanbhan O, the paly moon
Hath brimmed her cusp in dew,
And weeps to hear the sad sleep-tune
I sing, O love, to you.

Faintly sweet doth the chapel bell
Ring o'er the valley dim:
Tearmann's (5) peasant-voices swell
In fragrant evening hymn.
A leanbhan O, the low bell rings
My little lamb to rest
And angel-dreams, till morning sings
Its music in your breast.

(Chorus)
Notes
(1) Aoibheall is the queen of the northern fairies.
(2) Leanbhan means "little child".
(3) The Green Man - "They say if you see him in the morning, 'no ill follows'; but if at night, death or some other terrible misfortune will surely overtake you." -from "Songs of Uladh"
(4) Siabhra - Generic name for any type of Irish fairy.
(5) Tearmann is the village of "Termon" near Gartan in Donegal.

Comments
This song can be found in "Songs of Uladh" (Ulster), collected and arranged by Padraig Mac Aodh O'Neill, with words by Seosamh Mac Cathmhaoll and designs by Seaghan Mac Cathmhaoil (1904).

You can hear Jane Wilcox Hively sing the chorus and first verse of this song in the recording below...
Many thanks to Jane Wilcox Hively for sharing this song with her lovely recording.

Jane wrote, "I sing a lot of lullabies and play harp. If you are interested, my website is called Mountain Streams Music. I have a YouTube song "Lullaby Garden" that I wrote about 20 years ago! A lot of people like it."

Sheet Music