"I hear this is a kind of spell. So it should be chanted. It's part of the New Year custom of making rice porridge with seven herbs that dates back at least 1000 years.* That means, from that time Japanese have believed that a variety of plagues will come from birds. So as not to suffer from such diseases (i.e. avian influenza) they needed to keep their health and eat good nutritious meals in winter to maintain the body. So rice porridge with seven herbs has been eaten as part of a festival on the 7th of New Year. It was thought to ward off evil spirits and keep one healthy.

This past New Year, I noticed seven herbs were sold at a super store in Japan. But I didn't eat it as part of our meal. I am not sure how many people keep such an old custom. It's quite rare I think. Anyway I'd like to have it for the next New Year." -Sadao Mazuka (2016)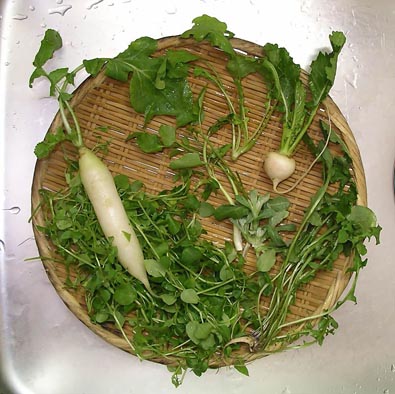 ななくさ なずな
(Nanakusa nazuna)
Seven Herbs, Shepherd's Purse
New Year's Song
New Year's Song
ななくさ なずな
とうど の とりが
にほん の くにへ
わたらぬ さきに
ストトン トン トン
ストトン トン トン

Seven herbs, shepherd's purse
Sick birds from China
Towards our country of Japan
To the place where they do not cross
Thum thum thump
Thum thum thump!
Notes
*For the customs of rice porridge with seven herbs, there is a description in the "Pillow Book by Sei Shōnagon" written in the Heian period (about 1000 years ago).

Pronunciation

Nana-kusa nazuna
Toudo no tori-ga
Nihon no kuni-ye
Wataranu sakini
Suto ton ton ton
Suto ton ton ton

Many thanks to Sadao Mazuka for chanting this for us!

Thanks and Acknowledgements
Thanks to Sadao Mazuka for sharing this song with us, for the comments and translation (with Lisa).

Image: By Blue Lotus - , cc by 2.0.
Arigato gozaimasu!