Nanakusa no sekku – Seven Herbs Festival in Japan – January 7th
January 8th, 2006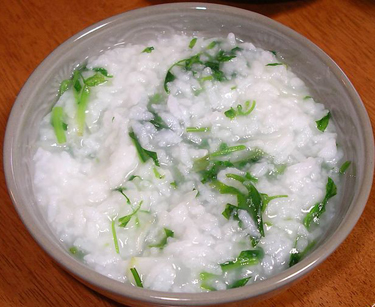 Nanakusa no sekku (七草の節句) is the Seven Herbs Festival that takes place on January 7th in Japan. It's customary to eat Nanakusa Gayu, a rice gruel with 7 herbs (nanakusa) for longevity and health.
The custom dates back as far as the 9th century and has its roots in ancient Chinese traditions. Eating Nanakusa Gayu on the 7th is supposed to give people good health in the upcoming year.
The Nanakusa Gayu is made with rice, water, salt, seven herbs and sometimes eggs. The seven herbs can vary. The most common ones are:
Seri (dropwart/evening primrose family)
Nazuna (shephard's purse/mustard family)
Gogyou (cottonweed)
Hakobe (chickweed)
Suzuna (turnip)
Suzushiro (Japanese radish)
Hotokenoz (cotton sow thistle/mint family)
Here's a Recipe for Nanakusa Gayu
Many thanks to Ramona in Tokyo for pointing out this tradition to me.
Wishing you all good health throughout the year!
Lisa
Photo: Wikipedia
Leave a Reply